News
'Biden…One Term': DeSantis Campaign Releases Merchandise After NYC Pizza Interview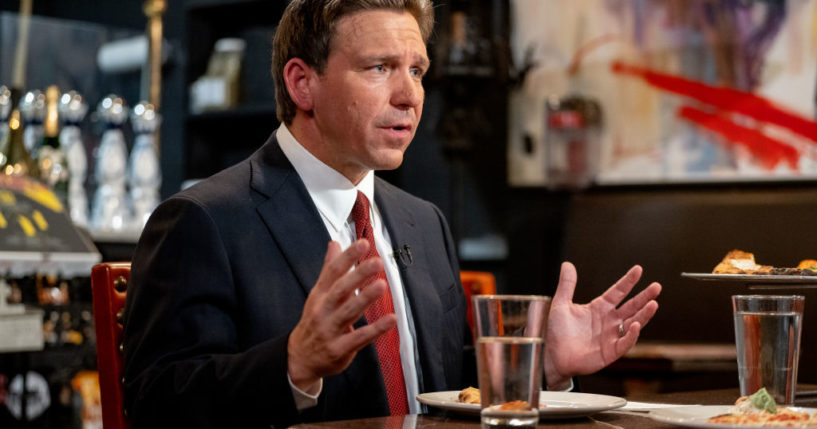 The campaign of Florida Gov. Ron DeSantis (R) released pizza-themed merchandise in response to New York City targeting brick and wood-fired ovens in an effort to lower their carbon emissions by 75%.
Released on Thursday evening, the t-shirts from the DeSantis campaign include a slogan inspired by Dave Portnoy, the founder of Barstool Sports, according to the Daily Caller. "One bite….everybody knows the rules," is a catchphrase used by Portnoy when he reviews pizza places.
"Biden…One Term, Everybody Knows the Rules T-Shirt," the DeSantis campaign wrote in a tweet. "Get yours now," the campaign added.
Advertisement - story continues below
The newly designed t-shirts were released after DeSantis did an interview on "Jesse Watters Primetime" earlier in the day with Fox News host Jesse Watters, reviewing Grimaldi's Pizzeria in New York.
After Governor @RonDeSantis' pizza review of Grimaldi's, we thought it was fitting to roll this one out…

Exclusive Biden…One Term, Everybody Knows the Rules T-Shirt. Get yours now ⬇️ 🚨https://t.co/8tKSDFFH5r

— Team DeSantis (@TeamDeSantis) June 30, 2023
DeSantis criticized the Democratic Party for cracking down on coal-fired and wood ovens in pizzerias in New York City. The crackdown would require many pizzerias with these types of ovens to purchase and install expensive emission-control devices.
Paul Giannone, the owner of Paulie Gee's in Greenpoint, New York told the New York Post he bought an emissions-control device for $20,000, describing how it was "a big expense" from having it installed and even maintained.
Advertisement - story continues below
"We can be the world's dominant energy producer," DeSantis told Watters over a slice of pizza, speaking about the Democratic Party's efforts on the Green New Deal.
DeSantis criticized Rep. Alexandria Ocasio-Cortez (D-N.Y.) and other Democratic lawmakers for their efforts on the deal while they allow "China do the stuff with impunity" and "impose draconian restrictions" on American citizens.
Would you purchase one of the shirts from the DeSantis campaign?
As a result of the restrictions imposed on American citizens and businesses, it "makes our manufacturing less competitive with China," DeSantis argued.
Earlier in the day, DeSantis called out President Joe Biden and his administration for their vision on energy, the environment, and the economy.
"He's talking about global warming, all this stuff, China builds a new coal-fired plant like every week," DeSantis told Fox News host Martha MacCallum in an earlier interview. "What is the administration doing and their allies in state and local governments? They're trying to stop coal-fired pizza shops from being able to operate in New York City. I think they have all of this backwards."
Truth and Accuracy
We are committed to truth and accuracy in all of our journalism. Read our editorial standards.
Comment Down Below
Conversation