News
Blinken Clarifies That the Taliban Is 'Not Permitting' Charter Flights To Leave Afghanistan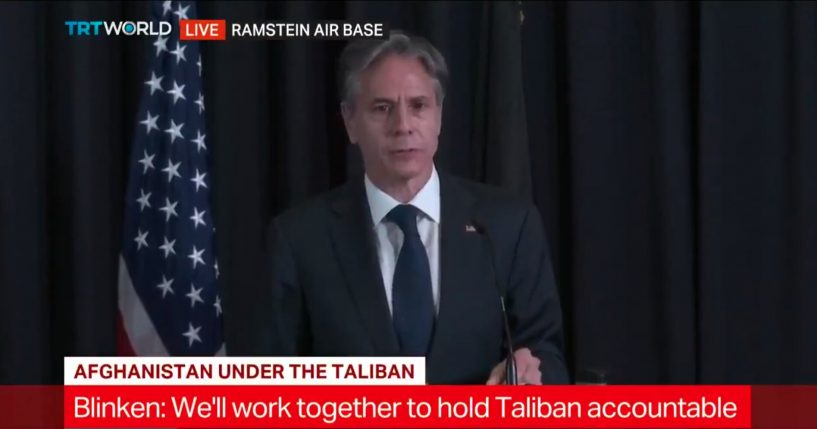 Secretary of State Antony Blinken says that the Taliban is preventing charter flights from departing Afghanistan.
Speaking to reporters on Wednesday, Blinken said, "As of now, the Taliban are not permitting the charter flights to depart. They claim that some of the passengers do not have the required documentation."
"While there are limits to what we can do without personnel on the ground, without an airport with normal security procedures in place, we are doing everything in our power to support those flights and to get them off the ground," he added.
Advertisement - story continues below
Watch the video below:
US Secretary of State Blinken on Afghanistan:

– Taliban are not permitting the charter flights to depart
– US is doing everything in its power to get flights off the ground
– Any legitimacy, support for Taliban govt "should be earned", will judge on its actions pic.twitter.com/rFNGgs7Xtw

— TRT World Now (@TRTWorldNow) September 8, 2021
The secretary of State said he "made clear" to the Taliban that "these charters need to be able to depart."
"We continue every day, virtually every hour to work on that," Blinken added.
Advertisement - story continues below
Over the weekend, reports surfaced that roughly 1,000 people have been waiting days to leave the Mazar-i-Sharif in Afghanistan.
Rep. Michael McCaul (R-Texas) told Fox News on Sunday the Taliban was not allowing several airplanes holding Americans and Afghan allies to leave, as IJR reported.
"We have six airplanes at Mazar-i-Sharif airport, six airplanes, with American citizens on them as I speak, also with these interpreters, and the Taliban is holding them hostage for demands right now," McCaul said.
He continued, "State has cleared these flights, and the Taliban will not let them leave the airport."
On Tuesday, Blinken told reporters that the U.S. had identified a "relatively" small number of American citizens who were at the Mazar-i-Sharif airport hoping to leave Afghanistan.
Advertisement - story continues below
However, he said, "It's my understanding is that the Taliban has not denied exit to anyone holding a valid document, but they have said those without valid documents, at this point, can't leave."
"Because all of these people are grouped together, that's meant that flights have not been allowed to go," he added.
Truth and Accuracy
We are committed to truth and accuracy in all of our journalism. Read our editorial standards.
Comment Down Below
Conversation