Commentary
Comedian Nikki Glaser Brutally Roasts 'Missing' Kamala Harris: 'We Don't' Miss Her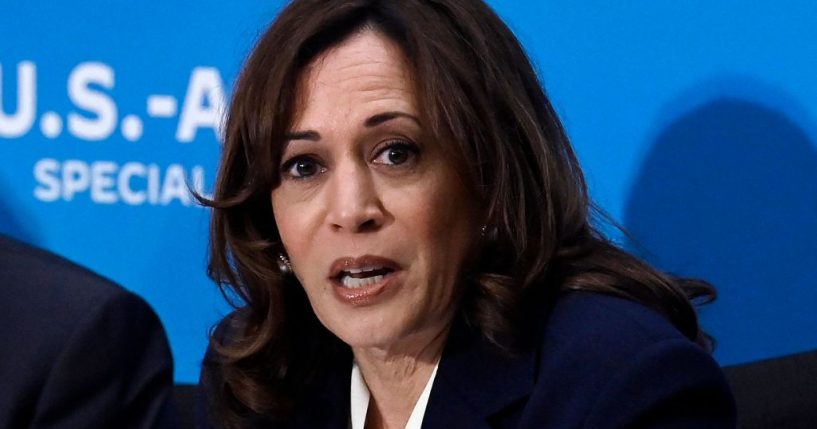 Vice President Kamala Harris received a roasting that might be a little too close to home when it comes to her popularity.
Comedian Nikki Glaser guest hosted Jimmy Kimmel's late-night show on Thursday and spent several minutes roasting politicians.
Her roast featured the typical lame jokes about Democratic politicians, we've come to expect. She joked that Sen. Bernie Sanders (I-Vt.) looks like someone who "eats hardboiled eggs out of plastic bag" on a Southwest flight. That's some comedy gold right there — eye roll.
Advertisement - story continues below
Meanwhile, Republicans were subjected to the traditional harsher treatment. She called former New York City Mayor Rudy Giuliani a "rodent," and likened former President Donald Trump to a "bloated, factory farm pig corpse." Apparently, the best roast she could come up with for former Vice President Mike Pence is that he is "so boring and white."
But there was one Democrat who received a roasting that might have hit a little too close to home: Harris.
"Listen, I know we're having fun right now, but on a serious note, I do want to say, Kamala Harris is still missing. And if you have any information on her whereabouts, please contact her parents, they miss her," Glaser said. "We don't, but they do."
She added, "I have a theory though that we haven't seen much of the vice president lately because she's sentenced herself to jail. I think she just missed the rush of putting an innocent person behind bars. Have you done it? It feels great."
Advertisement - story continues below
Watch the video below:
Glaser's comments about Harris come after she took a vacation in Hawaii.
According to FiveThirtyEight, 37.7% of Americans approve of Harris' job performance, while 50.3% disapprove.
Glaser's comments underscore a problem for Democrats if President Joe Biden decides not to run again in 2024, as Harris would appear to be the front runner for the nomination.
Advertisement - story continues below
But she crashed out of the 2020 Democratic presidential primary before the first votes were cast. And now in office, she is just not a popular figure who has a sizable and energetic fan base.
It did not take long after taking office for the vice president's popularity to plunge.
In fact, a Harvard CAPS-Harris Poll released earlier this month found Harris losing to Trump in a hypothetical 2024 matchup.
While you don't want to outshine the president as the vice president, it's not the best sign for your political future when the joke people come up with for you is that you're not missed. But do people really miss her laughing and word salads in response to questions?
Truth and Accuracy
We are committed to truth and accuracy in all of our journalism. Read our editorial standards.
Comment Down Below
Conversation