News
Capitol Police Officer Charged With Obstruction of Justice Related to Jan. 6 Riot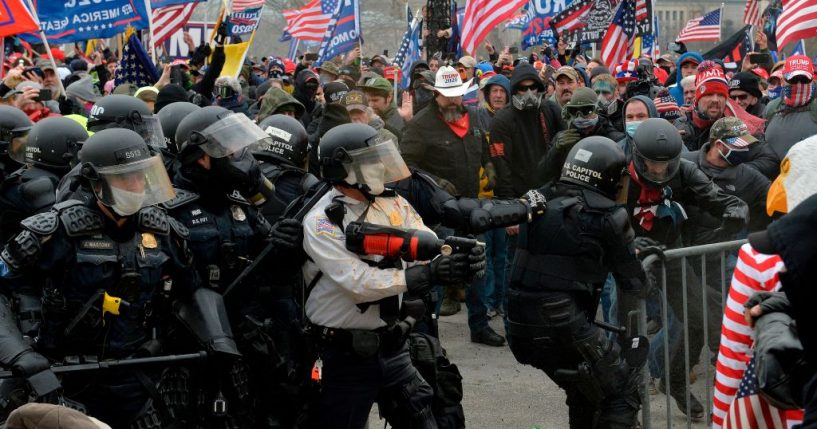 A U.S. Capitol Police officer is facing an obstruction of justice charge as prosecutors say he attempted to hide evidence of an individual's participation in the Jan. 6 riot.
Officer Michael A. Riley, a roughly 25 year veteran of the Capitol Police, was indicted for allegedly reaching out to a rioter to encourage them to remove a post from Facebook that showed they were in the Capitol on Jan. 6.
According to the indictment, "On January 7, 2021, through a Facebook direct message, Riley initiated contact with Person 1, who had posted 'selfie'-style photographs, videos, and other commentary on Facebook admitting his presence and conduct inside the U.S. Capitol on January 6, 2021. Riley and Person 1 had never communicated directly before."
Advertisement - story continues below
Riley allegedly wrote to the individual, "Hey [Person 1], im a capitol police officer who agrees with your political stance. Take down the part about being in the building they are currently investigating and everyone who was in the building is going to charged. Just looking out!"
New:

U.S. Capitol Police Office Michael Angelo Riley, who spent more than 25 years with USCP, has been charged with obstruction of justice in connection with Jan. 6. pic.twitter.com/BOr2z8Wy7N

— Adam Klasfeld (@KlasfeldReports) October 15, 2021
The indictment says that Riley accepted the individual's Facebook friend request on Jan. 1 and were "members of fishing-related Facebook groups."
It continued:
Advertisement - story continues below
"When Person 1 stated that he did not think he had done anything wrong, Riley responded, 'The only thing I can see is if you went in the building and they have proof you will be charged. You could always articulate that you had no where to go, but thats for court.'"
Riley allegedly also said, "Dont [sic] sweat it, they might choose to only charge certain people and not everyone. Personally i dont know what they have decided, just know our guys and the FBI are going through everything."
Adam Klasfeld of Law & Crime noted that an "officer of the same name, middle initial and time on the force was named 'Officer of the Month' in February 2011."
Truth and Accuracy
We are committed to truth and accuracy in all of our journalism. Read our editorial standards.
Comment Down Below
Conversation