News
Capitol Police Officer Who Fatally Shot Ashli Babbitt Speaks Publicly for the First Time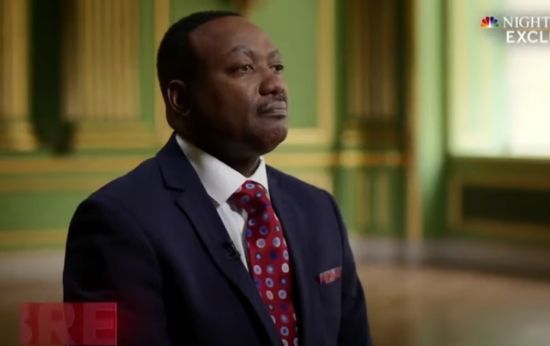 "My name is Michael Byrd. I'm the lieutenant for the United States Capitol Police," the officer who fatally shot Ashli Babbitt during the January 6 Capitol riot said in an interview with NBC News, speaking out about that day for the first time. 
Thursday's interview was the first time his identity was known publicly.
Babbitt, a Trump supporter and Air Force veteran, was shot and killed on January 6. Babbitt and others were "attempting to breach a barricaded door inside the Capitol building," as The Washington Post reports. The publication adds, "As she climbed up toward a broken section of the unguarded door, Babbitt was shot by an officer on the other side."
Advertisement - story continues below
Speaking to NBC News's Lester Holt in an interview that aired Thursday evening, Byrd said, "I know that day I saved countless lives. I know members of Congress, as well as my fellow officers and staff, were in jeopardy and in serious danger. And that's my job."
Recalling the events of the day, the officer said Babbitt was "posing a threat to the United States Capitol" and the rioters were not complying with commands. He also said that he did not know if Babbitt had a weapon on her. 
Additionally, Byrd said, "Once we barricaded the doors, we were essentially trapped where we were. There was no way to retreat. No other way to get out."
"If they get through that door, they're into the House chamber and upon the members of Congress," he added.
Advertisement - story continues below
Watch the interview below:
Asked about allegations that he had a political agenda, Byrd said, "I do my job for Republican, for Democrat, for white, for Black, red, blue, green. I don't care about your affiliation." 
Earlier this week, the U.S. Capitol Police formally exonerated Byrd, as IJR reported on. His identity was not made known then.
"USCP's Office of Professional Responsibility (OPR) determined the officer's conduct was lawful and within Department policy, which says an officer may use deadly force only when the officer reasonably believes that action is in the defense of human life, including the officer's own life, or in the defense of any person in immediate danger of serious physical injury," the Capitol Police said in a statement on Monday.
Advertisement - story continues below
The statement added, "The officer in this case, who is not being identified for the officer's safety, will not be facing internal discipline."
As the Capitol Police also noted, the officer and his family have "been the subject of numerous credible and specific threats for actions that were taken as part of the job of all our officers: defending the Congress, Members, staff and the democratic process."
Truth and Accuracy
We are committed to truth and accuracy in all of our journalism. Read our editorial standards.
Conversation