News
Tucker Carlson Admits to Being Shocked by Russian Invasion of Ukraine – Blames Biden, Harris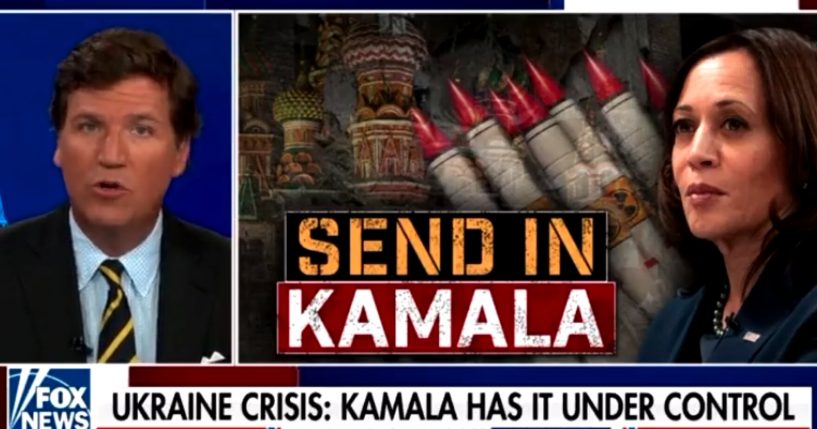 Fox News' Tucker Carlson insists he was taken by surprise that Russia launched an invasion of Ukraine, but blames the president and vice president for him not taking the threat seriously.
During a segment of his show on Thursday night, Carlson said the events in Ukraine were "shocking" to him.
"We've been taken by surprise by the whole thing. We're not the only ones who were, but we're willing to admit it," he added.
Advertisement - story continues below
However, he blamed President Joe Biden and Vice President Kamala Harris for not him not expecting that Russia would actually invade.
"We assumed that if things were dire, serious people would be involved in fixing them. We looked up, and we saw Kamala Harris involved. And that reassured us. Harris had just come back from Europe where she'd been conducting 'diplomacy' with our allies," the host added.
Carlson continued, "That appeared to be proof this could not really be a big deal. [If] the situation in Ukraine had been legitimately serious, if the future of Europe and the world hung in the balance as now so obviously it does, of course, the Biden administration would not have sent Kamala Harris to fix it cause that's not her job."
"Averting war with Russia, saving the civilized world, that's absolutely not Kamala Harris' job — that was our assumption. But as noted, we were wrong," he added.
Advertisement - story continues below
Watch the video below:
Tucker says he was wrong about Ukraine and blames Biden and Harris for him being wrong pic.twitter.com/Eal5p8hdMu

— Acyn (@Acyn) March 4, 2022
Finally, Carlson claimed, "We didn't underestimate Vladimir Putin. We overestimated Joe Biden."
Carlson's comments come as Russia's invasion of Ukraine stretched into its second week.
But while he insisted that the administration's actions downplayed the threat, officials had warned for weeks that an attack was possible.
Advertisement - story continues below
During a January press conference, Biden predicted that Russian President Vladimir Putin "will move in" to Ukraine. And days before the assault began, he told reporters he was "convinced" that Putin had decided to invade.
Truth and Accuracy
We are committed to truth and accuracy in all of our journalism. Read our editorial standards.
Comment Down Below
Conversation