News
Tucker Carlson Spars With GOP Rep Over Ukraine: 'I'm Not Going to Take the Anti-Communist Lecture'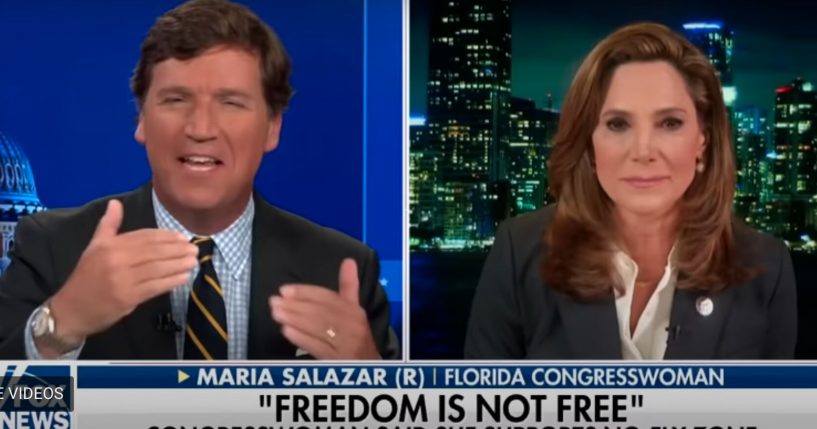 Things got heated when Fox News host Tucker Carlson asked Rep. Maria Salazar (R-Fla.) about her views about what steps the U.S. should take to help Ukraine.
Carlson played a clip of the Congresswoman appearing to voice support for a no-fly zone over Ukraine despite the possibility that such a move could lead to a war with Russia.
Salazar appeared on Carlson's show Wednesday night to discuss her position.
Advertisement - story continues below
"So, since you have called for war with Russia, how do you think that war, once it begins, would play out?" Carlson asked.
Salazar responded, "I think that's a hypothetical question. I think that we should concentrate, Tucker, on what Zelenskyy asked Congress today."
However, the host pushed back and claimed that she said the U.S. "should" shoot down Russian planes and essentially called for war with Russia.
"I didn't say that," Salazar shot back.
Advertisement - story continues below
When Carlson argued that is what she said in the video, Salazar said the clip was "taken out of context."
She explained that she believes the U.S. should not take the possibility of implementing a no-fly zone off the table and that it should send Ukraine MiG fighter jets and S-300 missile systems and "what [Ukrainian President Volodymyr Zelenskyy] needs to defend his own airspace so he will create his own no-fly zone."
Watch the video below:
Carlson went on to say that he feels sympathy for Ukrainians and wants the conflict to end, which prompted Salazar to ask the host what he believes the U.S. should do.
Advertisement - story continues below
He responded by saying that the U.S. should act in its "core interest" and asked, "If the United States providing weapons to one side in a war, how is that not participating in the war?"
Salazar, who is Cuban American, started to respond by saying she represents her district which includes many Cuban Americans.
"And I'm representing what we think. We know that we acquire peace through strength. Look at what happened in 1960. Fidel Castro and JFK," she said.
However, Carlson cut her off and said, "I'm sorry, I'm not going to take the anti-communist lecture from anybody because, of course, I agree with you. And I hope that you're not speaking for 'Cuban Americans' but for all Americans because it's not a racial question."
Advertisement - story continues below
"But my question is if we are providing weapons to one side in a war, I think it's fair to ask, maybe the other side would say that's an act of war against us. And if that happens, then what next? And to not think about that seems negligent, but since you are on the foreign affairs committee I know you have thought it through. So tell me your views and what would happen next," he added.
Salazar responded by noting that the U.S. has been providing military armament to Ukraine and asked what the difference is between those weapons and fighter jets. She then argued that Russian President Vladimir Putin is "dictating" what the U.S. is doing to help Ukraine.
Truth and Accuracy
We are committed to truth and accuracy in all of our journalism. Read our editorial standards.
Comment Down Below
Conversation