News
Rep. Madison Cawthorn Claims 2020 Election Was 'Unconstitutional'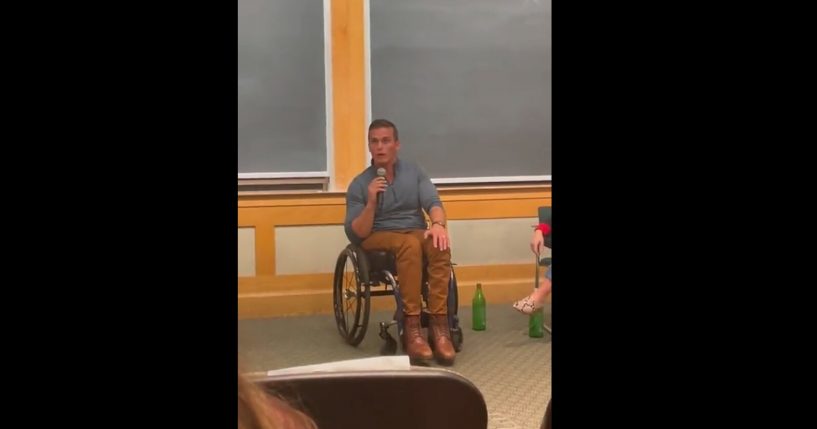 Rep. Madison Cawthorn (R-N.C.) insists that President Joe Biden did not legally win the 2020 presidential election.
During a town hall event on Sunday, a student activist asked Cawthorn, "A majority of Republicans believe that President Biden was not lawfully elected. Now you know that he was and that he won the 2020 election. So when will you stop lying to your constituents, admit that Donald Trump lost, and end this senseless attack on our democracy?"
The North Carolina Congressman responded by saying he "wholeheartedly" disagrees with the statement that Biden legally won the election. He added, "It was an unconstitutional election."
Advertisement - story continues below
Cawthorn explained, "So as you can all see in Article II, Section 3 of the Constitution, the only people who have a right to change election law in the United States of America, are the state legislatures. You saw in six key states, namely Wisconsin and Arizona, as the worst perpetrators."
"The state governors and the Board of Elections there who actually went around the will of the state legislature and changed election laws on their own. That is unconstitutional. When you have voter drop boxes that are set up in parks when you didn't give it a signature verification of voter identification laws, that is against the law and is an unconstitutional thing," he continued.
Finally, he asked, "Are you against the Constitution?"
Watch the video below:
Advertisement - story continues below
I asked Madison Cawthorn why he won't stop attacking our democracy.

He was upset. Here's his response: pic.twitter.com/RgIc1pcf2A

— Jack Cocchiarella (@JDCocchiarella) October 25, 2021
Other Congressional Republicans have cited changes to election laws made in 2020 to make it easier for voters to cast their ballots amid the COVID-19 pandemic as a cause for concern.
During an appearance on Fox News on Oct. 15, House Minority Whip Steve Scalise (R-La.) said, "If you look at a number of states, they didn't follow their state-passed laws that govern the election for president."
"That is what the United States Constitution says. They don't say the states determine what the rules are. They say the state legislatures determine the rules," he added.
As PolitiFact notes, "Facing the challenge of conducting elections during the COVID-19 outbreaks in the spring and fall of 2020, many states made changes to election procedures. Some of those actions were bills passed by state legislatures while others were orders or executive actions by governors or state election officials."
Advertisement - story continues below
Ahead of the 2020 election, the U.S. Court of Appeals for the Eighth Circuit ruled that Minnesota's extension of the deadline for mail-in ballots, made by election officials, was unconstitutional.
Still, the outlet explains that "many states have laws that allow officials to suspend statutes or regulations due to emergencies such as a pandemic. Some of these emergency laws are specifically about elections, while others are more broad."
Additionally, PolitiFact says that challenges to the changes needed to be made before the election. As Ohio State University law professor Edward Foley explained, "The courts, therefore, were not going to penalize valid voters for alleged mistakes of election officials."
Truth and Accuracy
We are committed to truth and accuracy in all of our journalism. Read our editorial standards.
Conversation