CBS Reporter Asks Biden About Schools and COVID-19 — President-Elect Pushes Back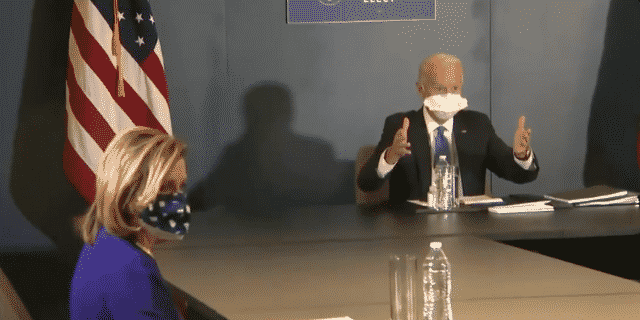 President-elect Joe Biden was not having it when a CBS News reporter shouted out a question at him.
At a meeting with vice president-elect Kamala Harris, House Speaker Nancy Pelosi (D-Calif.) and Senate Minority Leader Chuck Schumer (D-N.Y.) on Friday, CBS News correspondent Bo Erickson pressed Biden about teacher unions and schools amid the coronavirus pandemic.
Erickson asked Biden, "Mr. Biden, the COVID task force said it's safe for students to be in class. Are you going to be encouraging unions to cooperate more to bring kids back to classrooms, sir?"
"Let's go, guys," a Biden staffer is heard telling the reporters as Erickson continued to ask his question.
Biden, however, pushed back, "Why are you the only guy that always shouts out questions?" The president-elect is then heard laughing.
Watch the video below:
Asked Biden if he will encourage teacher unions to cooperate to get kids back in school because the COVID task force said it is safe to be in the classroom. He didn't answer.

"Why are you the only guy that always shouts out questions?" he said. pic.twitter.com/x2DsG5Fmgo

— Bo Erickson CBS (@BoKnowsNews) November 20, 2020
CBS News White House correspondent Paula Reid responded to the video, tweeting, "President-Elect Biden asks a good question – why is [Bo Erickson] the only one in the Biden pool tossing questions? Schools, vaccines, stimulus – so many important [questions] for both [Pelosi and Biden]."
Some schools have started to shut down their in-person classes again, including in New York City where the city's schools have "about a 0.17% positivity rate" and the city is at 3%, as CNN's Dr. Sanjay Gupta pointed out during a recent interview with White House task force coordinator Dr. Deborah Birx.
While the city's schools shut down in-person classes, restaurants and bars in the city still remain open as of now with reduced capacity — though the mayor has said it is "just a matter of time" before indoor dining and gyms close as well.
Additionally, Dr. Anthony Fauci, the director of the National Institute of Allergy and Infectious Diseases, has said that while there needs to be sensitivity to the teachers and families, officials need to "keep the schools open if you possibly can."
There has been an average of 168,695 new cases reported each day over the past week in the U.S., according to The New York Times. This is a 67% increase compared to the two weeks prior. The U.S. has reported more than 12 million cases and over 254,000 deaths due to the virus.