News
Cheney Asks Capitol Police Officer About Trump's Claim Jan. 6 Crowd Was 'Loving'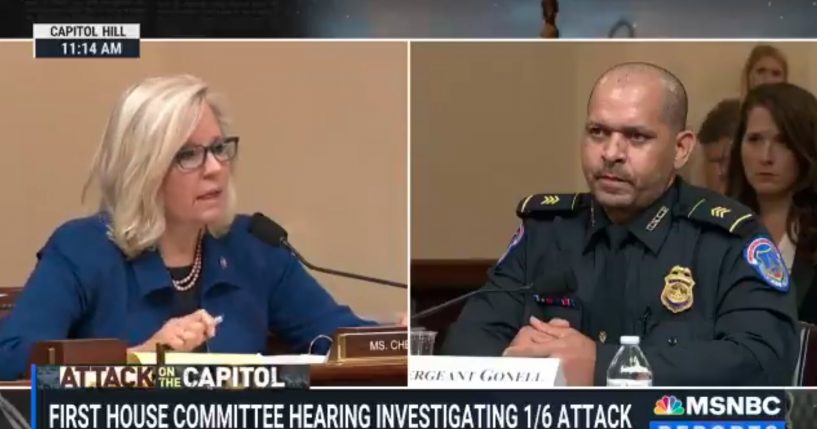 Rep. Liz Cheney (R-Wyo.) wants to know how one law enforcement official who fought back rioters at the Capitol on Jan. 6 feels about former President Donald Trump's assertion that the crowd that gathered at a rally before the violence was "loving."
During the first hearing of the select committee investigating the riot on Tuesday, the Wyoming Congresswoman asked U.S. Capitol Hill Police Officer Aquilino Gonell, "When you think about that and share with us the vivid memory of the cruelty and the violence of the assault that day, and then you hear former President Trump say quote 'It was a loving crowd. There was a lot of love in the crowd,' How does that make you feel?"
Gonell responded, "It's upsetting. It's a pathetic excuse for his behavior, for something that he himself helped to create — this monstrosity. I'm still recovering from those hugs and kisses that day… So many rioters, terrorists were assaulting us that day. If that was hugs and kisses, then we should all go to his house and do the same thing to him."
Advertisement - story continues below
"To me it's insulting, it's demoralizing because everything that we did was to prevent everyone in the Capitol from getting hurt and what he was doing — instead of sending the military, instead of sending the support or telling his people, his supporters, to stop this nonsense — he egged them to continue fighting," he added.
Finally, Gonell said he heard the rioters telling law enforcement officers that day that "Trump sent us."
"Nobody else. There was nobody else. It was not Antifa. It was not Black Lives Matter. It was not the FBI. It was his supporters that he sent them over to the Capitol that day."
Watch the video below:
Advertisement - story continues below
Rep. Cheney: "You hear fmr. President Trump say, 'It was a loving crowd, there was a lot of love in the crowd,' how does that make you feel?"

Sgt. Gonell: "It's upsetting, it's a pathetic excuse of his behavior … I'm still recovering from those hugs and kisses that day." pic.twitter.com/Icvc0ppaSo

— MSNBC (@MSNBC) July 27, 2021
Trump was impeached in January on the charge of incitement of insurrection as lawmakers alleged he caused the riot at the Capitol. He denied that a speech on Jan. 6 inspired supporters to storm the Capitol and was acquitted by the Senate in February.
Do you think the crowd was "loving?"
In an interview conducted for the new book, "I Alone Can Fix It," by Carol Leonnig and Philip Rucker of The Washington Post, Trump insisted that his speech was "calm" and stated that the crowd at the rally was "loving."
"It was a loving crowd, too, by the way. There was a lot of love, I've heard that from everybody," he said, adding, "Many, many people have told me, 'That was a loving crowd."
He continued, "I mean, in all fairness, the Capitol Police were ushering people in. The Capitol Police were very friendly. They were hugging and kissing."
Advertisement - story continues below
Videos from the day show rioters breaking windows and entering the building. However, some of those who entered the building claim that law enforcement simply let them enter the building and did not tell them they were not allowed to be there.
Additionally, at least 140 police officers were injured while they battled the rioters.
Truth and Accuracy
We are committed to truth and accuracy in all of our journalism. Read our editorial standards.
Comment Down Below
Conversation