News
Cheney Reacts To Trump's Endorsement of Primary Challenger: 'Bring It'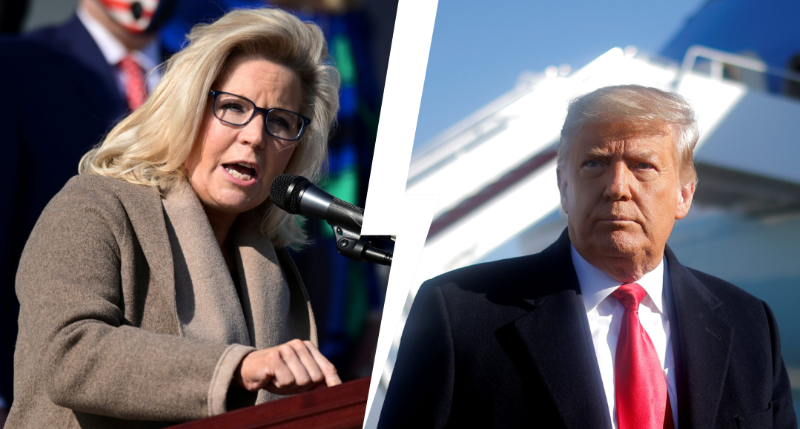 Rep. Liz Cheney (R-Wyo.) is signaling that she is not concerned about former President Donald Trump's endorsement of her primary challenger.
In a tweet on Thursday, the Wyoming Congresswoman shared a screenshot of Trump's endorsement of Wyoming attorney Harriet Hageman. She said, "Here's a sound bite for you: Bring it."
Here's a sound bite for you: Bring it. pic.twitter.com/VmET1JUs12

— Liz Cheney (@Liz_Cheney) September 9, 2021
Advertisement - story continues below
Cheney fell out of favor with Trump and his allies after repeatedly pushing back against his unfounded claims of widespread fraud in the election. House Republicans stripped the Wyoming Congresswoman of her leadership post earlier this year, as IJR reported.
In a statement on Thursday, Trump endorsed Hageman, "I strongly endorse Republican House of Representatives Candidate Harriet Hageman from Wyoming who is running against warmonger and disloyal Republican, Liz Cheney."
"Harriet Hageman adores the Great State of Wyoming, is strong on Crime and Borders, powerfully supports the Second Amendment, loves our Military and our Vets, and will fight for Election Integrity and Energy Independence (which Biden has already given up)," he continued.
Finally, he said, "Unlike RINO Liz Cheney, Harriet is all in for America First. Harriet has my Complete and Total Endorsement in replacing the Democrats number one provider of sound bites, Liz Cheney."
Advertisement - story continues below
Earlier this month, Cheney was chosen to serve as the vice-chair of the House select committee investigating the Jan. 6 insurrection at the U.S. Capitol.
"Every member of this committee is dedicated to conducting a non-partisan, professional, and thorough investigation of all the relevant facts regarding January 6th and the threat to our Constitution we faced that day," Cheney said in a statement. "I have accepted the position of Vice Chair of the committee to assure that we achieve that goal. We owe it to the American people to investigate everything that led up to, and transpired on, January 6th."
While Cheney vowed the committee would conduct a non-partisan investigation, that has not stopped House Minority Leader Kevin McCarthy (R-Calif.) from taking a shot at her for serving on the committee.
In July, McCarthy said Cheney and Rep. Adam Kinzinger (R-Ill.) are "Pelosi Republicans" after they accepted appointments to the committee from House Speaker Nancy Pelosi (D-Calif.)
Cheney and Kinzinger have both been vocal critics of Trump, and both voted to impeach him on the charge of "incitement of insurrection" earlier this year.
Truth and Accuracy
We are committed to truth and accuracy in all of our journalism. Read our editorial standards.
Comment Down Below
Conversation