News
Chris Cuomo Does Not Mention His Brother During Show Following Sexual Harassment Report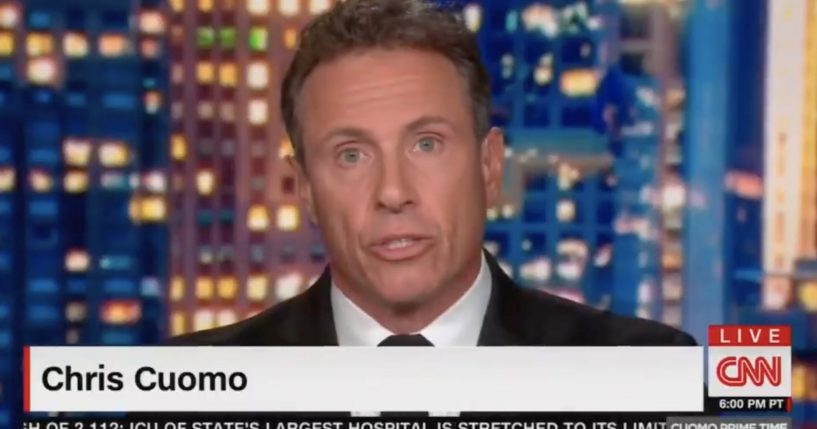 CNN's Chris Cuomo did not mention his brother, New York Gov. Andrew Cuomo (D), during his show after a report released by New York Attorney General Letitia James found he sexually harassed multiple women.
Chris Cuomo opened his show Tuesday night discussing COVID-19, saying, "We're focused on Covid here, especially until we get the Delta variant under control, and for now, as you know, it's getting worse."
Watch part of his show below:
Advertisement - story continues below
It appears @ChrisCuomo will not address the NY AG report that shows he was helping his brother cover up his criminal sexual misconduct and smear his victims. This is how he started the show. Back in May, he made comments at the top of the show. pic.twitter.com/GVPtvhw9SX

— Nicholas Fondacaro (@NickFondacaro) August 4, 2021
He went on to speak with former Surgeon General Jerome Adams and CNN's Harry Enten. Chris Cuomo then spent time talking about Florida Gov. Ron DeSantis (R) and his leadership amid the pandemic.
Closing his program, he acknowledged the police officers who defended the Capitol on January 6 that took their own lives. Don Lemon took over and immediately addressed the governor's scandal.
"Top Democrats from New York to the White House calling on Governor Andrew Cuomo to resign. That in the wake of the bombshell report from the state's attorney general that alleges the governor sexually harrassed 11 women, including state employees and a New York state trooper," Lemon said.
Advertisement - story continues below
Watch his comments below:
Don Lemon started talking about Andrew Cuomo the second that his brother got off the air pic.twitter.com/Pd1e7QgogL

— Jordan Lancaster (@jordylancaster) August 4, 2021
In March, Chris Cuomo first addressed the controversy surrounding his brother during his show. He said, "Obviously, I'm aware of what's going on with my brother. Obviously, I cannot cover it because he is my brother. Now, of course, CNN has to cover it."
The CNN anchor continued, "They have covered it extensively, and they will continue to do so. I have always cared very deeply about these issues and profoundly so. I just wanted to tell you that. There is a lot of news that is going on that matters also. So let's get after that."
In May, The Washington Post reported that Chris Cuomo advised his brother and senior members of his staff on how to respond to sexual harassment allegations.
Advertisement - story continues below
CNN called the conduct "inappropriate."
The outlet's Brian Stelter also wrote a story on Chris Cuomo's coverage of his brother. Stelter wrote, "Can Chris Cuomo continue to helm his 9pm show while being connected to one of the biggest stories in politics? CNN management said yes on Tuesday by keeping him on the air."
He added, "Inside CNN, some staffers I spoke with were supportive of Cuomo on Tuesday, recognizing that no one chooses their family members, and that viewers expected to see him on the air for 'Prime Time,' one of the network's highest-rated shows. Some other staffers were, as BuzzFeed News wrote, 'highly critical of the company's decision not to discipline Chris Cuomo for his role in the scandal.'"
The governor denied the allegations and responded with a report. It includes more than 40 photos showing Cuomo and other politicians hugging and kissing people, as IJR reported.
Truth and Accuracy
We are committed to truth and accuracy in all of our journalism. Read our editorial standards.
Comment Down Below
Conversation