News
Cuomo's Response To Investigation Includes Numerous Photos of Obama, Biden, Pelosi and Others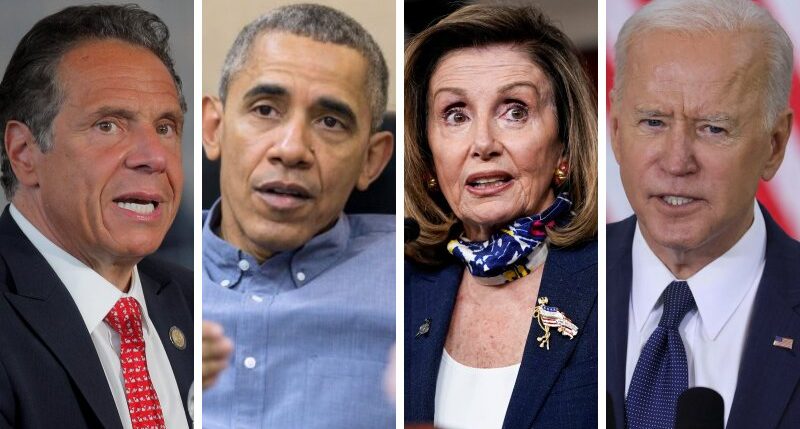 Several pages of New York Gov. Andrew Cuomo's (D) response to the New York attorney general's report include photos of him and other politicians hugging and kissing people.
In the counter report by Cuomo's attorney, there are more than 40 photos showing Cuomo and other politicians hugging and kissing people.
It includes photos of President Joe Biden and Vice President Kamala Harris. Photos are also seen of former President Barack Obama and former President George W. Bush hugging hurricane victims. Additionally, there are photos of House Speaker Nancy Pelosi (D-Calif.), Senate Majority Leader Chuck Schumer (D-N.Y.), and former Secretary of State Hillary Clinton.
Advertisement - story continues below
The report reads, "The way he interacts with others is not gender-based: he has hugged or kissed male and female members of his staff, Al Gore, Bill Clinton and Hillary Clinton, Andrea Stewart Cousins and Carl Heastie, as well as constituents he meets on the street, and family and friends, as has been well documented. The Governor's interaction has been on public display virtually on a daily basis for nearly 20 years."
It continues, "The Governor's conduct in this regard is unremarkable: Democratic and Republican politicians, male and female alike, use handshakes, hugs, and kisses to connect with others."
The report addresses allegations made against the governor.
Check out the photos below:
Advertisement - story continues below
This 83-page response report for #AndrewCuomo is bonkers…and includes EIGHT PAGES of politicians hugging to prove…something? https://t.co/PKcCwKbzgy pic.twitter.com/HoWpAdQj2d

— Pilar Melendez (@pbmelendez) August 3, 2021
Notably, Cuomo's response only discusses 3 of the 11 women at length (Boylan, Bennett & "Executive Assistant #1)

4 others get about a paragraph each (McGrath, Liss, Ruch, Kaitlin)

He didn't respond at all regarding the state trooper, the 2 state employees or Virginia Limmiatis

— Brian M. Rosenthal (@brianmrosenthal) August 3, 2021
Cuomo included photos of Obama and Bush hugging *hurricane victims* in his 85-page defense, most of which is pictures pic.twitter.com/err8EldLwh

— Eliza Relman (@eliza_relman) August 3, 2021
Cuomo's defense does prove he kissed his own father and that his father, in turn, hugged some other people. So there's that. pic.twitter.com/xTiWELvra3

— Alex Seitz-Wald (@aseitzwald) August 3, 2021
New York Attorney General Letitia James announced on Tuesday the findings of an independent investigation into the "allegations of and circumstances surrounding sexual harassment claims made against the governor," as IJR reported on.
Advertisement - story continues below
"This is a sad day for New York because independent investigators have concluded that Governor Cuomo sexually harassed multiple women and, in doing so, broke the law," James said.
Read the report's conclusion below:
"Upon completion of our independent investigation into allegations of sexual harassment brought against Governor Andrew Cuomo and the surrounding circumstances, we have reached the conclusion that the Governor sexually harassed a number of State employees through unwelcome and unwanted touching, as well as by making numerous offensive and sexually suggestive comments. We find that such conduct was part of a pattern of behavior that extended to his interactions with others outside of State government.

We also find the Executive Chamber's response to allegations of sexual harassment violated its internal policies and that the Executive Chamber's response to one complainant's allegations constituted unlawful retaliation. In addition, we conclude that the culture of fear and intimidation, the normalization of inappropriate comments and interactions, and the poor enforcement of the policies and safeguards, contributed to the sexual harassment, retaliation, and an overall hostile work environment in the Executive Chamber."
Advertisement - story continues below
Cuomo responded to the report with a montage of photos showing him touching people.
"I've been making the same gesture in public all my life. I actually learned it from my mother and from my father," he said, adding, "It is meant to convey warmth, nothing more. Indeed there are hundreds if not thousands of photos of me using the exact same gesture. I do it with everyone, Black and white, young and old, straight and LGBTQ, powerful people, friends, strangers, people who I meet on the street."
A former aide to Cuomo who accused him of sexual harassment told CBS News in response to Cuomo's denial, "He is trying to justify himself by making me out to be someone who can't tell the difference between sexual harassment and mentorship … I am not confused. It is not confusing."
Following the release of the report, there have been growing calls for Cuomo to resign, including from Biden.
Truth and Accuracy
We are committed to truth and accuracy in all of our journalism. Read our editorial standards.
Comment Down Below
Conversation