News
Biden Calls for Cuomo To Resign After Investigation Finds He Sexually Harassed Women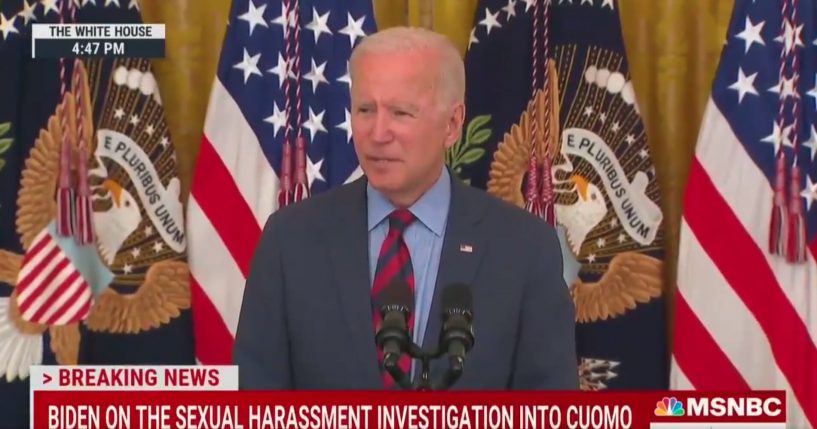 President Joe Biden is calling on New York Gov. Andrew Cuomo (D) to resign after the state's attorney general released a report that found he sexually harassed several women. 
During an event at the White House on Tuesday, CNN's Kaitlan Collins noted that Biden previously said Cuomo should resign if an investigation found that he sexually harassed women and asked if he would call for the governor to resign.
"I stand by that statement," Biden said.
Advertisement - story continues below
She asked, "Are you now calling on him to resign?"
"Yes," the president responded.
When asked if he thought Cuomo should be impeached and removed if he did not resign, Biden said, "Let's take one thing at a time here. I think he should resign. I understand that the state legislature may decide to impeach. I don't know that for a fact, I've not read all that data."
Watch the video below:
Advertisement - story continues below
.@kaitlancollins: "Are you now calling on [Gov. Andrew Cuomo] to resign?"

President @JoeBiden: "Yes." pic.twitter.com/vYUaFhQBk9

— Mediaite (@Mediaite) August 3, 2021
His comments come after New York State Attorney General Letitia James (D) released a report that found Cuomo "sexually harassed a number of State employees through unwelcome and unwanted touching, as well as by making numerous offensive and sexually suggestive comments."
The report also found that "such conduct was part of a pattern of behavior that extended to his interactions with others outside of State government."
In a statement, James said, "This is a sad day for New York because independent investigators have concluded that Governor Cuomo sexually harassed multiple women and, in doing so, broke the law."
"I am grateful to all the women who came forward to tell their stories in painstaking detail, enabling investigators to get to the truth. No man — no matter how powerful — can be allowed to harass women or violate our human rights laws, period," she added.
Advertisement - story continues below
The investigation was civil in nature, and Cuomo has not been charged with a crime.
He denied any wrongdoing in a statement after the report was released as he said, "I want you to know directly from me that I never touched anyone inappropriately or made inappropriate sexual advances."
"I am 63 years old. I've lived my entire adult life in public view. That is just not who I am. And that's not who I have ever been," he added.
After the report was released, some users on social media began sharing a months-old video of Biden weighing in on whether Cuomo should resign amid the sexual harassment allegations.
Advertisement - story continues below
During a March interview with ABC News, Biden was asked, "If the investigation confirms the claims of the women, should he resign?"
"Yes, I think he'd probably end up being prosecuted too," he said. 
Truth and Accuracy
We are committed to truth and accuracy in all of our journalism. Read our editorial standards.
Comment Down Below
Conversation