News
Chrissy Teigen and John Legend Share Photo, Reveal Name and Gender of Newborn Baby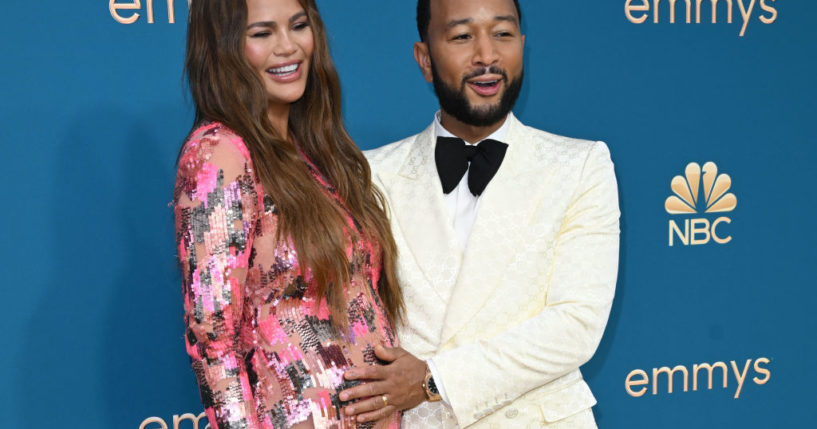 Model Chrissy Teigen and singer John Legend have revealed the gender and name of their new bundle of joy.
On Jan. 13, the couple welcomed their rainbow baby into the world.
On Jan. 19, Teigen posted a photo to her Instagram page of her new baby girl, named Esti Maxine Stephens, along with her two siblings, Luna and Miles.
Advertisement - story continues below
Esti Maxine Stephens🥹 Congratulations to Chrissy Teigan & John Legend on the arrival of their baby girl💕🍼 pic.twitter.com/E9OdmeNK6P

— boohoo (@boohoo) January 19, 2023
"She's here! Esti Maxine Stephens – the house is bustling and our family could not be happier. Daddy sheds nightly tears of joy seeing Luna and Miles so full of love, and I am learning you still need diapers with a c section!? We are in bliss," she wrote.
She added, "Thank you for all the love and well wishes – we feel it all! X."
Advertisement - story continues below
On Aug. 3, 2022, Teigen announced that she was pregnant again on her Instagram page. This came after the death of their newborn son, Jack, more than two years ago.
"​​The last few years have been a blur of emotions to say the least, but joy has filled our home and hearts again. 1 billion shots later (in the leg lately, as u can see!) we have another on the way," Teigen captioned various photos showing off her baby bump.
She also admitted her nerves after experiencing pregnancy loss.
"Every appointment I've said to myself, 'OK, if it's healthy today I'll announce,' but then I breathe a sigh of relief to hear a heartbeat and decide I'm just too nervous still. I don't think I'll ever walk out of an appointment with more excitement than nerves but so far, everything is perfect and beautiful and I'm feeling hopeful and amazing. OK, phew, it's been very hard keeping this in for so long," she continued.
During an interview on "TODAY with Hoda and Jenna" in 2020, Teigen spoke about the challenges of motherhood.
Advertisement - story continues below
"They say nine out of 10 moms actually feel like they're not doing a good enough job and that was me completely and now I realize that there's no one right way to do anything. There's a million ways to raise a baby. There's a million different things you can do. You can't really go wrong honestly," she said.
Truth and Accuracy
We are committed to truth and accuracy in all of our journalism. Read our editorial standards.
Comment Down Below
Conversation