News
Chris Christie: '2020 Joe Biden Is Now Officially Dead and Buried'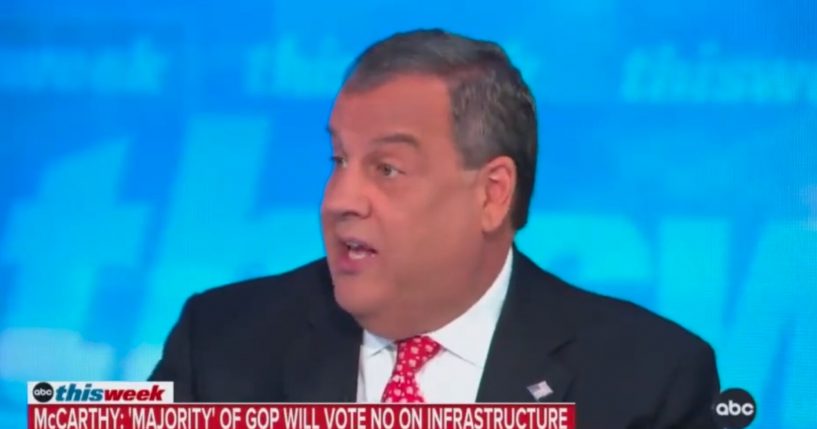 Former New Jersey Gov. Chris Christie (R) believes that President Joe Biden's promise to "be a uniter" is "dead" after he tried to bridge a divide between moderate and progressive Democrats in Congress.
During an appearance on ABC's "This Week" on Sunday, Christie said, "It's the death of 2020 Joe Biden. When he went to the Hill, 2020 Joe Biden is now officially dead and buried."
"The guy who ran against the progressives, ran against Bernie Sanders and Elizabeth Warren, ran to be a uniter in this country, ran saying he was going to force compromise. And he went up to Capitol Hill, and he capitulated to the progressives, the liberals in his party," he continued.
Advertisement - story continues below
Finally, Christie said, "And why should we be surprised? He couldn't stand up to the Taliban. How could we expect him to stand up to AOC?"
Host Jon Karl labeled the former governor's comments a "partisan take."
Watch the video below:
WOWZA: Ripping President Biden for "capitulating" to the radical elements in his party, Chris Christie declares "2020 Joe Biden is … dead and buried." He then adds: "He couldn't stand up to the Taliban. How could we expect him to stand up to AOC?" pic.twitter.com/6JtitFR0mq

— Nicholas Fondacaro (@NickFondacaro) October 3, 2021
Advertisement - story continues below
Christie's comments come after House Democrats failed to reach an agreement on a roughly $1 trillion bipartisan infrastructure bill and a separate $3.5 trillion spending package.
Progressive Democrats in the House have warned they would block the infrastructure bill unless it was accompanied by the larger spending package. Meanwhile, moderates want a stand-alone vote in the infrastructure bill.
Do you think the "2020 Joe Biden" is "dead"?
Biden met with House Democrats on Friday in an attempt to bridge the divide and get his agenda across the finish line.
However, after the meeting, moderate Democrats said they felt that the president had sided with the progressives and did not fight hard enough for the infrastructure legislation.
Rep. Stephanie Murphy (D-Fla.), a moderate Democrat, told The New York Times, "The way he is governing doesn't reflect the skills I know he must have from his years as a legislator."
Advertisement - story continues below
Speaking to reporters on Saturday, the president appeared to accept progressives' demands that the two bills be passed together as he said, "There is no reason why both these bills couldn't pass independently except that there are not the votes to do it that way. It's a simple proposition."
"And so, I think it makes sense I support both of them, and I think we can get them both done," he added.
Still, Reuters reports that Biden told progressives the price tag of the spending bill would have to be cut.
Truth and Accuracy
We are committed to truth and accuracy in all of our journalism. Read our editorial standards.
Conversation