News
CNN Guest Calls Sinema, Manchin and People 'Hiding Behind' Them 'Extremists'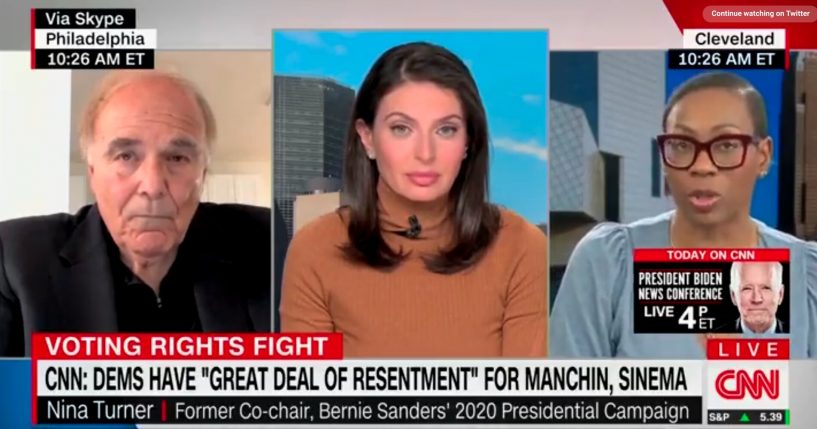 Nina Turner, a former co-chair of Sen. Bernie Sanders (I-Vt.) 2020 campaign, is labeling Sens. Kyrsten Sinema (D-Ariz.) and Joe Manchin (D-W.Va.) "extremists" over their opposition to changing the 60-vote threshold in the Senate.
Turner said during an appearance on CNN on Wednesday, "Not only is the filibuster standing in the way of expanding and protecting voting rights, it is standing in the way of most of the president's agenda."
"So what can Sen. Manchin say other than the fact that he is an extremist? Him and Sen. Sinema are extremists. And anybody that's hiding behind them are extremists. Because when you want to put your political concerns over democracy when you serve in some of the highest offices of the land, then something is wrong with you," she added.
Advertisement - story continues below
Watch the video below:
WATCH: CNN Guest calls Senators Joe Manchin and Kyrsten Sinema "extremists," urges Joe Biden to "take it to the streets." pic.twitter.com/8jv6TUyCDo

— Townhall.com (@townhallcom) January 19, 2022
Senate Majority Leader Chuck Schumer (D-N.Y.) is expected to hold a vote to make changes to the filibuster, which requires 60-votes to overcome and advance legislation, as Democrats hope to pass voting rights legislation.
"If the Republicans block cloture on the legislation before us, I will put forward a proposal to change the rules to allow for a talking filibuster on this legislation, as recommended by a number of colleagues," Schumer told reporters on Tuesday.
Advertisement - story continues below
Democrats would need all 50 of their senators to vote for the rule change. However, Manchin and Sinema have both voice opposition to changing the filibuster.
In a speech on the Senate floor last week, Sinema said she supports the voting rights legislation. However, she said, "I will not support separate actions that worsen the underlying disease of division infecting our country."
"There's no need for me to restate my long-standing support for the 60 vote threshold to pass legislation. There's no need for me to restate its role protecting our country from wild reversals in federal policy. It is a view I've held during my years serving in both the U.S. House and the Senate. And it is the view I continue to hold," she added.
Meanwhile, Manchin also said he would not support making changes to the filibuster. He also signaled that he was not concerned about a potential primary challenge over his stance. Speaking to reporters on Tuesday, he said, "I've been primaried my entire life. That would not be anything new for me…Bring it on."
Truth and Accuracy
We are committed to truth and accuracy in all of our journalism. Read our editorial standards.
Comment Down Below
Conversation