News
CNN Reporter Calls Biden's Sinking Poll Numbers 'Not Good': 'Tell a Clear Story'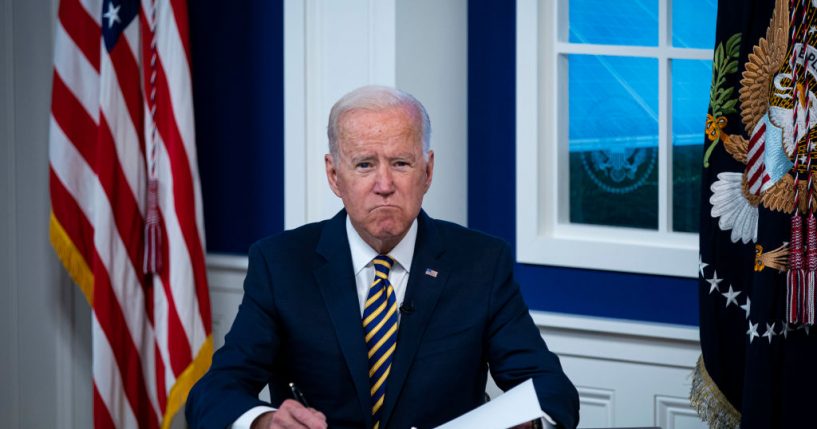 President Joe Biden's poll numbers are going in the "wrong direction" for him, according to CNN's senior data reporter.
The network's Harry Enten said on Friday that the president's approval rating numbers "tell a clear story."
"To use the technical term, not good. This is the trend in Joe Biden's job approval rating. Look at August 1, you know, the approval was at 51 percent, the disapproval was at 43, that was a net right there of plus eight," he added.
Advertisement - story continues below
However, "But look at what happened, Sept. 1, the net minus two, the disapproval above the approval, and now minus five. So essentially going in the wrong direction. Not good," Enten said.
CNN's John Berman chimed in, "Clearly underwater."
Watch the video below:
CNN: Joe Biden's approval numbers are "not good…clearly underwater at this point." pic.twitter.com/7tszpMkQrE

— America Rising (@AmericaRising) October 8, 2021
Advertisement - story continues below
Enten went on to note that Biden's approval rating among Democrats was down 10 points from September. And among Republicans he is 84 points underwater and 16 points underwater among independents.
"It's those folks in the center of the electorate who are driving this," he added.
A recent Quinnipiac University poll found that a majority of Americans disapprove of Biden's handling of the economy, the military, taxes, immigration issues, the COVID-19 pandemic, foreign policy, and the situation at the U.S.-Mexico border, as IJR reported.
The poll also found that 55% say the Biden administration is "not competent in running the government."
Overall, 53% of Americans disapprove of his job performance while just 38% say they approve.
Advertisement - story continues below
Quinnipiac University Polling Analyst Tim Malloy said, "Battered on trust, doubted on leadership, and challenged on overall competency, President Biden is being hammered on all sides as his approval rating continues its downward slide to a number not seen since the tough scrutiny of the Trump administration."
For most of his presidency until early August, Biden's approval rating hovered above 50%. However, in the wake of a surge of new COVID-19 cases and the chaotic exit from Afghanistan, it has fallen and has yet to recover.
According to FiveThirtyEight's average of polls, Biden's approval rating is 44% while his disapproval rating is at 48.9%
Truth and Accuracy
We are committed to truth and accuracy in all of our journalism. Read our editorial standards.
Conversation