CNN Reporter, Crew Arrested On Air While Covering Minneapolis Protests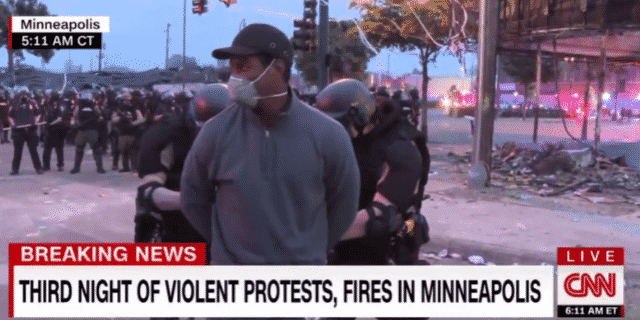 A CNN reporter and crew were arrested during a live segment while covering the heated protests in Minneapolis, Minnesota.
CNN reporter Omar Jimenez and his crew — including CNN Producer Bill Kirkos and CNN Photojournalist Leonel Mendez — were approached early Friday by a police officer mid-segment, as the officer said, "You're under arrest."
"OK, do you mind telling me why I'm under arrest?" Jimenez responded. "Why am I under arrest, sir?"
Another crew member said, "You're arresting him live on CNN. We told you before we're with CNN."
The police said they were arresting the CNN crew after being told to move and not moving, according to CNN.
Watch the video below:
Minnesota police arrest CNN reporter and camera crew as they report from protests in Minneapolis https://t.co/oZdqBti776 pic.twitter.com/3QbeTjD5ed

— CNN (@CNN) May 29, 2020
A CNN reporter & his production team were arrested this morning in Minneapolis for doing their jobs, despite identifying themselves – a clear violation of their First Amendment rights. The authorities in Minnesota, incl. the Governor, must release the 3 CNN employees immediately.

— CNN Communications (@CNNPR) May 29, 2020
A black reporter from CNN was arrested while legally covering the protests in Minneapolis. A white reporter also on the ground was not. https://t.co/GcfwEvyYQC pic.twitter.com/Mg4ZwKIuKt

— CNN (@CNN) May 29, 2020
Minnesota Gov. Tim Walz, who spoke with CNN's president, said he "deeply apologizes for what happened." The governor was working to have the CNN team released "immediately," as CNN reports.
He called the action "totally unacceptable" and "totally inadvertent," and that the CNN crew "clearly had the right to be there."
See the comments below:
Minnesota Gov. Tim Walz has apologized for the arrest of a CNN reporter and camera crew and says he will have them released. "It was totally unacceptable." https://t.co/wzsTRlW3I4 pic.twitter.com/7xec3wTnbm

— CNN (@CNN) May 29, 2020
The CNN crew has since been released, as CNN confirmed.
We can confirm that @OmarJimenez and the CNN crew arrested this morning in Minneapolis have been released.

— CNN Communications (@CNNPR) May 29, 2020
This comes as tensions continued to be heated with protests heading into the third day following the death of George Floyd, an unarmed 46-year-old black man.
Violent protests and fires have broken out in Minneapolis after footage of Floyd's arrest went viral, showing an officer with his knee pressing into Floyd's neck. Floyd later died in custody.
The Minneapolis mayor has called for the arrest of the officer involved, as he said on Wednesday, "Why is the man who killed George Floyd, not in jail? If you had done it or I had done it, we would be behind bars right now."
"George Floyd deserves justice. His family deserves justice," he added. "The black community deserves justice. And our city deserves justice."