News
Time Crunch: CNN Reports 36 Hours Left Until End of Evacuations From Afghanistan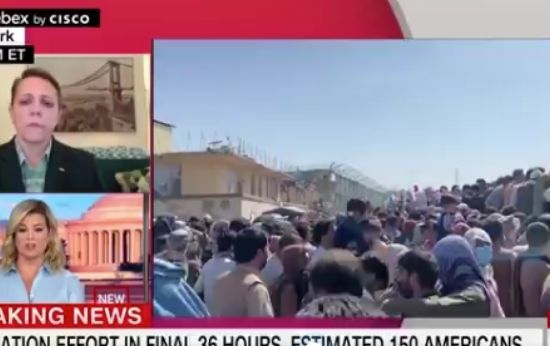 CNN is reporting that despite several days until August 31, the evacuation effort in Afghanistan is in its final 36 hours.
A source familiar with the situation in Afghanistan told CNN "there was another 36 hours until the end of the operation to evacuate," as the outlet reports. The focus there has also shifted to Afghan staff — roughly 1,800 people —who worked at the U.S. Embassy.
The source told CNN, "American citizens are still trickling in but their priority has shifted to local staff."
Advertisement - story continues below
Additionally, the source said all of the gates on the base are closed, besides one unofficially used by Afghan security forces.
CNN also reports, "The source said the evacuation operation – although already winding down — would end Friday. The source added the British were departing on Thursday night."
As CNN's Brianna Keilar put it on Thursday morning, "The window to leave Afghanistan is rapidly closing with just hours to go before planes will no longer be available for folks who want to leave." 
Watch the video below:
Advertisement - story continues below
August 31 is the official US exit from Afghanistan but for people trying to escape the window will close in hours.

"They're screaming to get out," @TrueBoots says, of her sources on the ground. "They're screaming to live. They're screaming for their children to live." pic.twitter.com/ACPSYrHbhg

— Brianna Keilar (@brikeilarcnn) August 26, 2021
The U.S. Embassy in Afghanistan said in a statement, "Because of security threats outside the gates of Kabul airport, we are advising U.S. citizens to avoid traveling to the airport and to avoid airport gates at this time unless you receive individual instructions from a U.S. government representative to do so."
It adds, "U.S. citizens who are at the Abbey Gate, East Gate, or North Gate now should leave immediately."
While CNN reports of only 36 hours left, on Wednesday, Secretary of State Antony Blinken said that the effort to evacuate Americans from Afghanistan "will continue every day past August 31st," even after U.S. troops leave by the planned August 31 deadline.
President Joe Biden was asked during a White House event on Thursday what he would do "if Americans are still in Afghanistan after the deadline." He responded by telling the reporter, "You'll be the first person I call."
Advertisement - story continues below
A White House official said, "From August 25 at 3:00 AM EDT to August 26 at 3:00 AM EDT, a total of approximately 13,400 people were evacuated from Afghanistan," adding, "Since August 14, the U.S. has evacuated and facilitated the evacuation of approximately 95,700 people. Since the end of July, we have re-located approximately 101,300 people," according to a White House pool report on Thursday morning.
On Wednesday, Blinken said there is about 1,500 people who may be Americans still in Afghanistan. He also noted "at least 4,500 American citizens and likely more" have been evacuated since August 14.
"There was a population of as many as 6,000 American citizens in the country who wanted to leave" since the efforts began, Blinken said, adding, "Over the past 24 hours we've been in direct contact with approximately 500 additional Americans and provided specific instructions on how to get to the airport safely."
Additionally, he said, "For the remaining roughly 1,000 contacts that we had who may be Americans seeking to leave Afghanistan, we're aggressively reaching out to them multiple times a day through multiple channels of communication."
Advertisement - story continues below
UPDATE [08/26/21,10:20 a.m. EST]:
The Pentagon is denying that operations will wrap up in 36 hours. Pentagon spokesperson John Kirby said, "Evacuation operations in Kabul will not be wrapping up in 36 hours. We will continue to evacuate as many people as we can until the end of the mission."
Truth and Accuracy
We are committed to truth and accuracy in all of our journalism. Read our editorial standards.
Conversation