News
Co-Hosts of 'The View' Forced to Leave Set After Testing Positive for COVID Before Harris Interview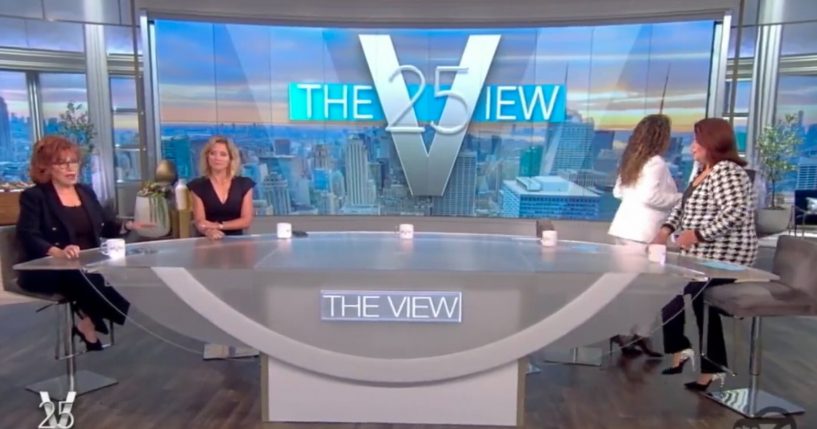 Two co-hosts of ABC's "The View" had to leave the set ahead of a scheduled sit-down interview with Vice President Kamala Harris after they tested positive for COVID-19.
Ahead of Harris' interview on Friday, co-hosts Sunny Hostin and Ana Navarro tested positive for COVID-19 and were required to step off the set.
In a video, a man off-camera can be heard saying the "two of you need to step off for a second."
Advertisement - story continues below
"Ana and Sunny have to leave," co-host Joy Behar said, adding, "And we'll tell you why in a couple of minutes."
The man said, "And we're going to bring you back later… More information later it's a tease."
Watch the moment below:
The View hosts Sunny Hostin and Ana Navarro are escorted off the set after both testing positive for COVID mid-show.

VP Harris is waiting backstage for an interview which has since been delayed. pic.twitter.com/8XPpeprlkk

— Alex Salvi (@alexsalvinews) September 24, 2021
Advertisement - story continues below
Behar asked, "So shall I introduce the vice president?"
After being told "yes," Behar was then told she should not introduce Harris.
"Since this is going to be a major news story any minute now. What happened is that Sunny and Ana both apparently tested positive for COVID. No matter how hard we try, these things happen. They probably have a breakthrough case, and they'll be OK, I'm sure because they're both vaccinated up the wazoo. You know a lot of vaccines," she later explained.
The interview will now be done virtually.
Truth and Accuracy
We are committed to truth and accuracy in all of our journalism. Read our editorial standards.
Conversation