News
Crenshaw Torches Conservative 'Performance Artists' and 'Grifters' in House Freedom Caucus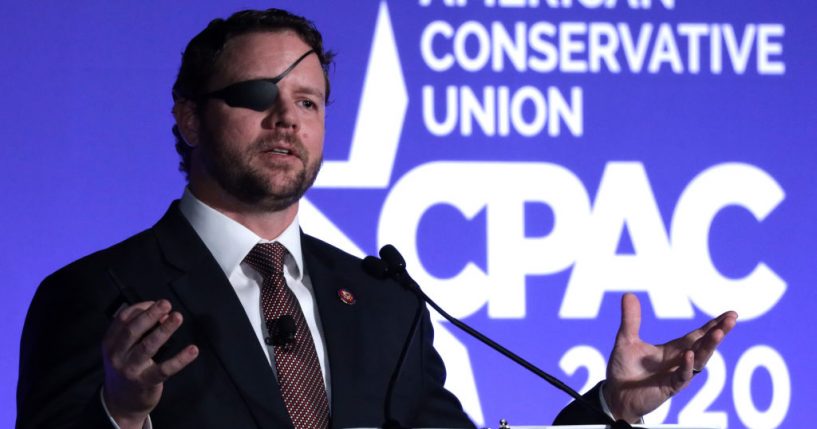 Rep. Dan Crenshaw (R-Texas) is criticizing House Republican "grifters" who say "slogans real well" but did not vote for former President Donald Trump's agenda.
Speaking at the Texas Liberty Alliance PAC on Monday, Crenshaw said, "There's two types of members of Congress: there's performance artists, and there's legislators."
"Performance artists are the ones who get all of the attention, the ones you think are more conservative because they know how to say slogans real well. They know how to recite the lines that they know our voters want to hear," he continued.
Advertisement - story continues below
The Texas Congressman asked, "When every single time we were voting for Donald Trump's agenda, who do you think was at the top of that list voting with Trump, and who do you think was at the bottom?"
He said that one of the lawmakers who voted the most in line with Trump's agenda was Rep. Adam Kinzinger (R-Ill.)
"He voted with Trump almost 99%. He was number two," Crenshaw said, adding, "You know who's at the bottom? Everyone in the Freedom Caucus. All of them."
Watch the video below:
Advertisement - story continues below
Wowie! Dan Crenshaw trashes 'Freedom Caucus' members Greene, Brooks, Gohmert, Gosar, Jordan, etc, as "performance artists" while defending Kinzinger. "We have grifters in our midst .. lie after lie after lie." 🍿 pic.twitter.com/hoaGOcOx9s

— Ron Filipkowski (@RonFilipkowski) December 7, 2021
He continued, "What you hear so often is not true. It's not true. We have grifters in our midst…I mean in the conservative movement. Lie after lie after lie because they know something psychologically about the conservative heart. We're worried about what people are doing to do to us, what they're going to infringe upon us."
The House Freedom Caucus includes members who cast themselves as supporters of Trump, such as Reps. Jim Jordan (R-Ohio), Paul Gosar (R-Ariz.), Louie Gohmert (R-Texas), Matt Gaetz (R-Fla.), and Jody Hice (R-Ga.).
According to FiveThirtyEight's vote tracker, Kinzinger — an outspoken Trump critic — voted more in line with the former president's positions than Jordan, Gosar, Gohmert, or Gaetz.
Truth and Accuracy
We are committed to truth and accuracy in all of our journalism. Read our editorial standards.
Comment Down Below
Conversation