News
'The Crown' Actress Emma Corrin Hopes Award Shows Will Be Non-Gendered in the Future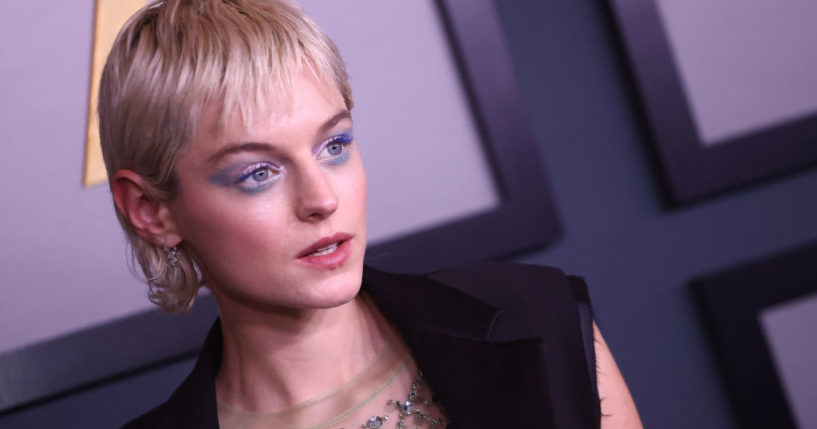 "The Crown" actress Emma Corrin opened up about her thoughts on gendered categories in award shows.
Corrin, who is a biological woman but identifies as non-binary, spoke to BBC in a radio interview.
The actress has a hope for a future where award show categories are no longer separated by male and female.
Advertisement - story continues below
"I think that it's about everyone being able to feel acknowledged and represented and I don't think the categories are inclusive enough at the moment," Corrin said.
Continuing, the Golden Globe winner said, "It's difficult for me at the moment trying to justify in my head being nonbinary and being nominated in female categories."
The actress shared that the conversation needs to be about having more representation in the material itself we are seeing for the LGBTQ community.
Advertisement - story continues below
"When more actors are playing those roles then I think there will be more of an urgency with which these questions will be addressed," Corrin explained.
Genesis 5:2 says, "Male and female he created them, and he blessed them and named them Man when they were created."
In an interview with US Vogue in July, Corrin spoke about coming out as non-binary.
"In my mind, gender just isn't something that feels fixed, and I don't know if it ever will be; there might always be some fluidity there for me," Corrin said.
The 25-year-old added, "I feel much more seen when I'm referred to as 'they,' but my closest friends, they will call me 'she'. And I don't mind because I know they know me."
Advertisement - story continues below
Corrin also spoke about having to play feminine roles.
"I remember struggling with having to wear bras in Chatterley and as Marion, but it's quite difficult, because I'm not Emma, right? I'm an actor, and I have a job to do," Corrin said.
Truth and Accuracy
We are committed to truth and accuracy in all of our journalism. Read our editorial standards.
Comment Down Below
Conversation