News
Cruz Declares Biden Becoming President Is the 'Best Thing That Ever Happened' for Putin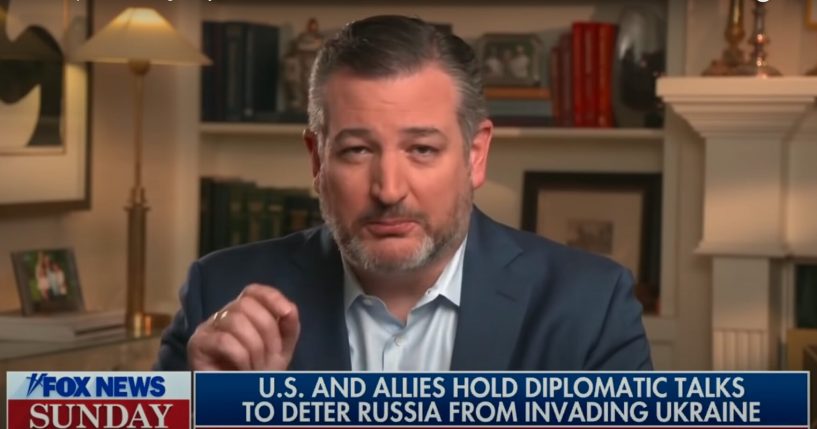 Sen. Ted Cruz (R-Texas) believes that President Joe Biden assuming the role of chief executive has been "the best thing that ever happened" for Russian President Vladimir Putin.
"Tragically Europe is on the verge of war because of the weakness, the fecklessness of Joe Biden," Cruz said during an appearance on "Fox News Sunday."
He went on to argue that the chaotic withdrawal from Afghanistan last year was the "worst military catastrophe for the United States in decades" and had emboldened "all of our enemies across the globe."
Advertisement - story continues below
When asked if the Biden administration's effort to deter an invasion has been effective, Cruz said, "No, it hasn't worked at all. If you look at what the Ukrainians want, they've been very explicit."
"They've asked the United States explicitly, 'Put sanctions on Nord Stream 2, right now, today.' Joe Biden could do that this morning. He refuses to do it. And they said, number two, provide lethal military aid, give us the weapons to defend ourselves," he added.
Watch the video below:
Advertisement - story continues below
He went on to claim that his bill to place sanctions on the Nord Stream 2 pipeline, which would carry gas from Russia to Germany, faced Democratic opposition recently because Biden is in the White House as opposed to former President Donald Trump.
The senator argued that the Democrats who voted against the sanctions bill "voted in favor of Russia."
Do you think Biden becoming president was the "best thing" that happened for Putin?
Additionally, Cruz pointed out that top Ukrainian officials have said placing sanctions on the pipeline would be an effective deterrent to an invasion.
"Joe Biden came to Capitol Hill and personally lobbied Democratic senators to vote against Russian sanctions. That's why we're facing this invasion. I gotta say, Bill, Joe Biden becoming president is the best thing that ever happened, tragically, for Vladimir Putin," he added.
Cruz's comments come amid reports that Russian commanders have been given an order to move ahead with an invasion, and after Biden said he was "convinced" Putin had decided to invade Ukraine.
Advertisement - story continues below
The Biden administration has vowed to impose tough sanctions on Russia if it invades.
Truth and Accuracy
We are committed to truth and accuracy in all of our journalism. Read our editorial standards.
Comment Down Below
Conversation