News
Cruz Unveils New Bill That Would Make Dems 'Horrified' of Migration Surge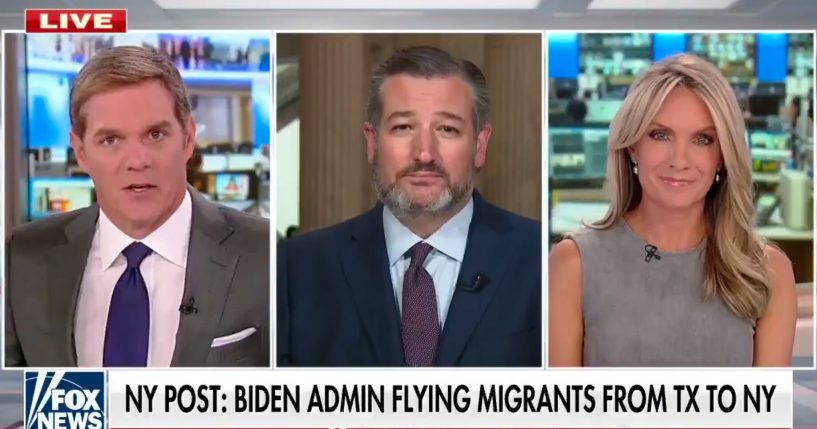 Sen. Ted Cruz (R-Texas) is unveiling a new bill he claims would make "rich" Democrats "horrified" of the ongoing surge in migration at the U.S.-Mexico border.
During an appearance on Fox News' "America's Newsroom" on Tuesday, Cruz said, "You see rich Democrats basically saying to Texas and the rest of the country, 'Oh you silly people you shouldn't worry about this.' And they say this while they're at their fancy enclaves."
He went on to share details of his proposed Stop the Surge Act, which would open new ports of entry in areas he says are the enclaves of "rich Democrats":
Advertisement - story continues below
"What my bill does is it designates new ports of entry, like Palo Alto, California, like St. Helena, California, like Yountville, California, like Greenwich, Connecticut, like Rehoboth Beach, Delaware, like Cambridge, Massachusetts, Martha's Vineyard, Block Island, Rhode Island, Governor's Island, Scarsdale, New York, North Hero, Vermont, and Nantucket."
He added, "So rich Democrats can be sitting there and suddenly see 10, 20, 30, 50 thousand illegal immigrants like we're seeing in Texas on a daily basis. And I can just envision them sitting in Nantucket, sipping a martini, going, 'Oh goodness, they want to come to our clubs.' They would be horrified. But they need to face the disaster of their policies and the humanitarian misery they're causing."
Watch the video below:
"Their entire political strategy is based on secrecy." @tedcruz introduces his Stop the Surge Act after a new report says the Biden Administration is secretly flying migrants from the southern border to New York during the night @BillHemmer @DanaPerino pic.twitter.com/u9GSLU87hE

— America's Newsroom (@AmericaNewsroom) October 19, 2021
Advertisement - story continues below
Co-host Bill Hemmer noted that Cruz claimed if Democrats endured "a fraction of the suffering of south Texas," a border wall would be built, and there would be a crackdown on illegal immigration.
The Texas senator said he does not expect his bill will move forward because Democrats are "perfectly happy being hypocrites."
In July, border patrol agents apprehended 212,672 migrants attempting to cross the border, marking a 21-year high. However, NBC News noted in September the 21-day average of border crossings dipped slightly.
Homeland Security Secretary Alejandro Mayorkas called the border situation "one of the toughest challenges we face."
Truth and Accuracy
We are committed to truth and accuracy in all of our journalism. Read our editorial standards.
Comment Down Below
Conversation