'I'm Better Looking With the Mask': NY Gov. Cuomo Reveals Face Mask With a Thanksgiving Theme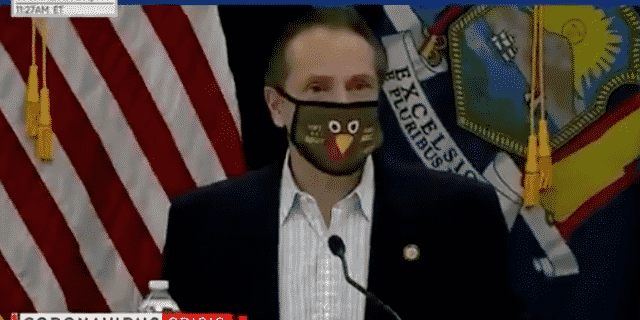 New York Gov. Andrew Cuomo (D) is revealing a face mask in an effort to urge Americans to be smart when it comes to combatting the coronavirus pandemic as Thanksgiving nears.
During Tuesday's press conference, the New York governor shared the mask that resembles a turkey.
"Don't be a turkey this Thanksgiving," Cuomo said as he held up the face mask. "Wear a mask, don't be a turkey."
After putting on the mask, Cuomo continued, "Look at, how beautiful is that? Tell the truth. Especially good on me. Covers my nose and everything. I'm better looking with the mask."
Watch the video below:
.@NYGovCuomo dons a mask at his presser today; "how beautiful is that? Tell the truth. Especially good on me." pic.twitter.com/c2GNPt9O9i

— Tom Elliott (@tomselliott) November 24, 2020
Cuomo previously talked about the "don't be a turkey" message during another press conference.
"My advice on Thanksgiving, don't be a turkey!" he said. "You don't want to be the turkey on Thanksgiving."
The governor said people can show love for one another by saying, "I'm not going to see you."
New York was once the epicenter in the U.S. amid the coronavirus outbreak. The state has reported over 606,000 coronavirus cases. Over the past week, the state has seen an 85% increase in daily COVID-19 cases reported compared to the two weeks prior.
According to NBC News' New York flagship station WNBC, incoming travelers to New York must receive a negative COVID-19 test before entering the state. The traveler then must take another test four days after entering the state — if negative, the person does not have to quarantine for 14 days.
Those who are from New York, however, and who leave and return within 24 hours are only required to get a coronavirus test when they re-enter the state.
The U.S. Centers for Disease Control and Prevention is advising people not to travel during the holidays, saying, "Travel may increase your chance of getting and spreading COVID-19. Postponing travel and staying home is the best way to protect yourself and others this year."