Cuomo Pushes Back on Trump's Threat To Withhold COVID-19 Vaccine From NY Until the Governor Approves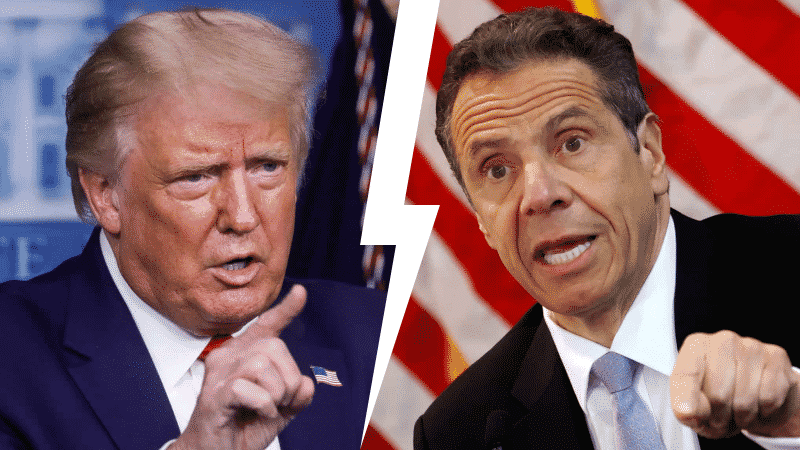 New York Gov. Andrew Cuomo (D) is hitting back at President Donald Trump after the president made a threat over COVID-19 vaccine distribution to his state.
Following the president's vaccine threat, Cuomo responded on CNN's "The Situation Room" Friday calling Trump's remarks "untrue" and that Trump "luckily" will not "be here" when the vaccine is made available.
"He tries to bully people," the New York governor later added. "He tries to bully governors, he uses government as a retaliatory tool… I'm not going to let a bully push New Yorkers around, period."
Cuomo similarly told MSNBC during an appearance, "The American people trust the drug company more than they trust the president."
Watch Cuomo's response below:
New York Gov. Andrew Cuomo responds to Pres. Trump's comments, saying, "luckily he won't be here" when a vaccine arrives. https://t.co/Oy3SHbO3O8 pic.twitter.com/9K5uDcMj6o

— The Situation Room (@CNNSitRoom) November 14, 2020
During Friday's press conference in the Rose Garden, Trump said that "as soon as April" a COVID-19 vaccine will be made widely available, before taking aim at Cuomo.
"[Cuomo] doesn't trust where the vaccine is coming from," Trump said. "These are coming from the greatest companies anywhere in the world, greatest labs in the world, but he doesn't trust the fact that it's this White House, this administration, so we won't be delivering it to New York until we have authorization to do so, and that pains me to say that."
Trump added, "Gov. Cuomo will have to let us know when he's ready for it. Otherwise, we can't be delivering it to a state that won't be giving it to its people."
See Trump's comments below:
"We won't be delivering [the vaccine] to New York until we have authorization to do so. That pains me to say that." — Trump is still trying to settle old scores with Cuomo pic.twitter.com/SGKn65oYqH

— Aaron Rupar (@atrupar) November 13, 2020
The comments between the two come shortly after Pfizer announced on Nov. 9 that early data from its coronavirus vaccine trial showed positive efficacy "in preventing COVID-19 in participants without evidence of prior SARS-CoV-2 infection in the first interim efficacy analysis," as IJR previously reported. Pfizer is working with BioNTech.
Following the announcement, Cuomo called it "good news/bad news," as IJR also reported.
The governor said during a "Good Morning America" interview, "The good news is the Pfizer tests look good and we'll have a vaccine shortly. The bad news is that it's about two months before Joe Biden takes over and that means this administration is going to be implementing a vaccine plan."
He also called the Trump administration's vaccination plan "flawed."
Cuomo previously suggested that the American people should be "very skeptical" about the Food and Drug Administration (FDA) and the U.S. Centers for Disease Control and Prevention's (CDC) approval process of a coronavirus vaccine.
He laid out New York's plan where the state will put together its own group of doctors and medical experts to determine if the vaccine is safe and "and if they say it's safe then I'll go to the people of New York and I will say, 'It's safe,'" he previously told ABC's George Stephanopoulos.