Commentary
Dam Breaking? House Dem Says Biden Should Not Run Again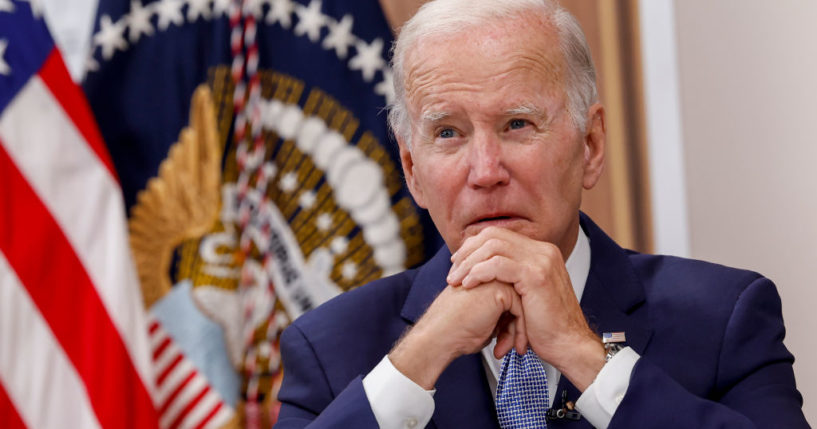 While several polls have found that a majority of Democrats do not want President Joe Biden to run again, some members of his party in Congress have tried to avoid sharing their thoughts on the matter.
However, on Friday, Rep. Dean Philips (D-Minn.) was asked on radio station WCCO-AM if he believes the president should run again.
"I have respect for Joe Biden. I think he has despite some mistakes and some missteps, despite his age, I think he's a man of decency, of good principle, of compassion, of empathy, and of strength," Philips responded.
Advertisement - story continues below
He went on, "But to answer your question directly, which I know is quite rare, uh no, I don't."
"I think the country would be well served by a new generation of compelling, well-prepared, dynamic Democrats to step up," Philips added.
Listen to the exchange below:
Rep. Phillips appears to be the first sitting congressional Democrat to publicly say Biden shouldn't run for re-election in 2024.

While any decision by the party could be as much as a year away, a poll this month found 75% of Democratic voters agree.https://t.co/IfV4wI0WWb

— The Recount (@therecount) July 29, 2022
Advertisement - story continues below
Philips also said he does not believe he is the only Congressional Democrat who feels that way and stated that he is "not shy" about sharing his view.
The Recount pointed out that it appears Philips is the first Congressional Democrat to publicly state that he does not believe Biden should run again.
Do you think more Democrats will speak out?
The exchange comes after a new CNN poll found that 75% of Democrats and Democrat-leaning voters said they do not want Biden to run again.
Among those under 45, 82% said they want someone other than Biden to be the party's nominee. And among older voters, he does not get that much of a benefit, as 69% said they want another candidate as well.
The poll was conducted July 22-24, and the margin of error has a plus or minus 6.7 points.
Advertisement - story continues below
While Philips is not shy about his feeling regarding Biden, Reps. Alexandria Ocasio-Cortez (D-N.Y.) and Cori Bush (D-Mo.) have avoided answering questions on the matter.
By contrast, Sen. Elizabeth Warren (D-Mass.) said Biden should run again and urged Democrats to "stop the catnip" about 2024.
Despite Warren's recommendation that Democrats stop the speculation about whether the president will run again, others may follow Philips' lead and come forward to say Biden should not seek another term if they see that he doesn't get bludgeoned politically.
It's interesting that Philips made this statement even among some apparent optimism that the president could be prepared to see a rebound in his polling. Perhaps, just too many things have gone wrong and or were handled poorly that Biden's image is baked into the cake for some Democrats.
Advertisement - story continues below
But if they're trying to boost their prospect ahead of the midterms, suggesting that the head of the party should step aside — for whatever reason — probably isn't going to generate the kind of headlines that will help them politically.
Truth and Accuracy
We are committed to truth and accuracy in all of our journalism. Read our editorial standards.
Comment Down Below
Conversation