Commentary
What's the Deal With All the Talk About Banning TikTok?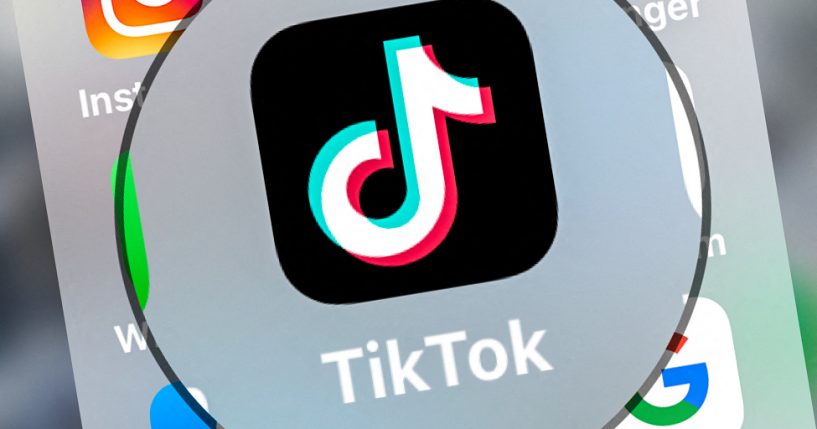 TikTok, the wildly popular social video app, has been under the microscope lately. But what is behind all the attention and calls for a ban on the seemingly innocent app?
TikTok started as a lip-syncing app and has quickly grown into one of the world's most popular social media platforms. In the U.S. alone, there are over 90 million users.
Users go to the app for interior design tips, wipe-out videos, pet videos, investing tips, as well as social and political commentary, and more.
Advertisement - story continues below
Its short-form, Vine-like videos combined with an algorithm that is excellent at predicting what content users will want to see and feeding it to them have helped propel TikTok to become the most downloaded app in the world — with over 3.5 billion downloads.
But behind the addictive and cute videos of pets or funny clips of people wiping out while skiing lies a controversy about what the social impact it has on younger users and whether the Chinese-based app poses a national security risk.
So far, more than two dozen U.S. states have banned the app on government-issued devices. And India banned it entirely.
It's just an app to watch funny or informative videos, right?
Advertisement - story continues below
National and cyber security concerns:
There are two branches when it comes to security concerns related to the app. The first is the concern that TikTok can gain valuable information — about infrastructure or military installations, for example — from users' phones, and that the Chinese government can access it.
Do you think TikTok should be banned?
Forbes Magazine also alleged TikTok could use specific users' data to track their location, which ByteDance, the Chinese-based owner of the app, has denied.
Libertarian magazine Reason notes security researchers have criticized the app's data collection practices.
However, Baptiste Robert, a French security researcher, looked into TikTok and determined, "TikTok's behavior is not suspicious and it is not exfiltrating unusual data. Getting data about the user device is quite common in the mobile world and we would obtain similar results with Facebook, Snapchat, Instagram and others."
Advertisement - story continues below
The other concern is that TikTok's algorithm could be used to spread Chinese propaganda and divide Americans.
FBI Director Christopher Wray has raised concerns China's government could take control of the algorithm and use it for influence operations. But he has not alleged that it is doing so.
We do not want China to use a seemingly innocuous app to influence and divide Americans. However, we should take what the government says about the app with a grain of salt and demand some concrete evidence before we accept what it says about its alleged threats.
Mental health impact:
Advertisement - story continues below
There has also been an increased focus on the alleged adverse effects TikTok is having on America's youth.
One disturbing study from the non-profit Center for Countering Digital Hate (CCDH) found users can be fed content about suicide in an astonishing three minutes from the moment they sign up for the app. And within five minutes, they can be shown content promoting eating disorders.
CCDH researchers created accounts allegedly at the minimum age of 13. When the accounts paused on and liked content about mental health and body image, the app showed similar content roughly every 39 seconds for 30 minutes.
The rise of TikTok has come amid an increase in the number of teenage girls reporting "persistent feelings of sadness or hopelessness," which surged from 36% to 57% over the last decade. A survey from the Centers for Disease Control and Prevention (CDC) found nearly one in three teen girls considered suicide in 2021.
Advertisement - story continues below
While the rise in anxiety, depression, and feelings of hopelessness cannot be solely blamed on social media, it cannot be ignored that studies have found a link between social media use and mental health symptoms. And the amount of time teens spend on social media saw a 17% surge from 2020 to 2022.
After YouTube, TikTok came in second place for the app most teenagers in the U.S. say they use. According to a Pew Research survey in 2022, 67% said they had ever used TikTok, while 62% said they have used Instagram, and 59% said they have used Snapchat — all three of which have been singled out for creating unrealistic beauty standards.
Far behind those four was Facebook, with 32% of teens saying they have ever used it, followed by Twitter, with just 23% saying the same.
So what is to be done about TikTok?
Advertisement - story continues below
As criticism of the social media app has grown, so have calls for an outright ban in the U.S.
Earlier this month, the House Foreign Affairs Committee advanced legislation that would give President Joe Biden the ability to ban TikTok and potentially other apps if they are deemed a security risk.
Some conservatives argue TikTok is simply too dangerous to be allowed to operate in the U.S. You may recognize this form of argument from supporters of gun control who argue certain types of firearms are too deadly for Americans to have. But if you believe the argument against certain firearms is bunk, you should share the same view of the First Amendment.
For proponents of a ban, there is the pesky issue of the First Amendment. It would be hard to square an outright ban with the free speech clause of the Constitution. Besides, what happens if ByteDance releases some new app in its place? Are we just going to keep banning every viral app from a Chinese company?
Advertisement - story continues below
That's not to mention the impact it would have on Americans who have built their livelihood and brands on TikTok either.
And what would be the argument for not banning Facebook, Instagram, and Snapchat? Only American companies can mess with our children and gobble up our data, gosh darn it!
It is not as though TikTok is the only app that could be used to divide Americans and sow disinformation. After all, Twitter was used by Russian operatives to sow misinformation in the U.S. during the 2016 election — though a study by NYU's Center for Social Media and Politics found "no measurable changes in attitudes, polarization, or voting behavior among those exposed to this foreign influence campaign."
Officials could try to force ByteDance to sell its American operations to a domestic company. However, Chinese officials have reportedly said they would rather shut the app down than comply with a forced sale.
Advertisement - story continues below
Perhaps Congress could require tech giants to limit access to TikTok — and maybe others — for people under a certain age. We restrict certain things based on age, such as smoking or drinking. Of course, teens still find ways to smoke and drink. Yet, just because a law is not foolproof does not mean nothing should be done.
And lawmakers could require app stores to inform users of the potential risks they are taking by downloading and using the app.
Short of an outright ban, restricting access until users are at least a little more cognitively developed and informing users of the potential risks may be the best option.
Truth and Accuracy
We are committed to truth and accuracy in all of our journalism. Read our editorial standards.
Comment Down Below
Conversation