Commentary
House Dem Signals She Does Not Want Biden to Campaign With Her in 2022 Amid His Atrocious Poll Numbers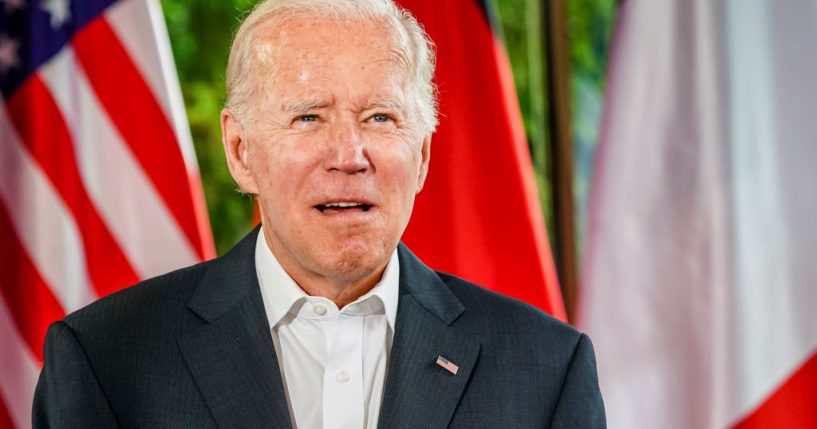 President Joe Biden may be starting to see signs of Democrats fleeing from him ahead of the 2022 midterm elections.
Rep. Abigail Spanberger (D-Va.) appeared on Fox News on Tuesday, where co-host Dana Perino pointed out that the nonpartisan Cook Political Report rates her district as a toss-up.
She asked, "I wonder if you look across the board, do you think that you'll have President Biden come and campaign with you in that district?"
Advertisement - story continues below
"I intend to do the campaigning myself," Spanberger responded.
She added, "I am the candidate. It's my name on the ballot. Certainly, when I first ran, I ran in an R+7 district, and I won that seat by getting out and speaking to voters."
Watch the video below:
Democrat Rep. Abigail Spanberger on if she wants Biden to campaign for her: "I intend to do the campaigning myself." pic.twitter.com/15RAWDzD5v

— RNC Research (@RNCResearch) June 28, 2022
Advertisement - story continues below
Her comments come as Biden's approval rating is deeply underwater just months ahead of the 2022 midterm elections.
According to FiveThirtyEight, 55.6% of Americans disapprove of Biden's job performance, while 39.6% approve.
Do you think Democrats will want Biden to campaign for them?
The Congresswoman also declined to share whether she would back Biden in 2024.
"I'm looking squarely towards 2022 and the reelection ahead of me, working to make sure voters across Virginia's 7th District know what I've been doing on their behalf and why I'm asking for their vote again. I'll be focused on 2024 after we get through the 2022 elections," Spanberger said.
Spanberger flipped a Republican seat in 2018 and won her race by roughly 10,000 votes. And as she pointed out on Tuesday, that district was seen as being much more advantageous to the Republicans at the time.
Advertisement - story continues below
The district she is running in — thanks to redistricting — is seen as slightly more favorable to the Democrats, and yet she does not want Biden to campaign for her.
Spanberger won her first race in a year that was very favorable to Democrats. Still, her aversion to having Biden campaign with her appears to be a stunning reversal of over a decade of Virginia apparently trending toward the Democrats.
Since 2008, every Democratic presidential candidate has carried Virginia after decades of it steadily going for the Republican nominee.
In 2020, Biden's victory carried Virginia by roughly 500,000 votes.
Advertisement - story continues below
But after less than a year of Democratic control in Washington, D.C., they drove too far to the left, and voters there are swinging away from the party. In 2021, Glenn Youngkin (R) won the race for governor, and Republicans regained control of the House of Delegates.
The fact that Spanberger is distancing herself from Biden in a state that seemed like it had pretty much slipped away from Republicans until five minutes ago highlights that Democrats appear to be very concerned that Biden will act like an anchor and drag their party to an electoral abyss.
We've already seen several stories about Democrats pondering whether they should kick Biden to the curb ahead of 2024. And unless there is some event or policy win that fundamentally alters Americans' views of Biden, he can probably expect more Democrats in what had been seen as safe districts to flee from him politically.
If they get walloped in November, we may see even more Democrats willing to publicly say they do not think he should run in 2024.
Truth and Accuracy
We are committed to truth and accuracy in all of our journalism. Read our editorial standards.
Comment Down Below
Conversation