News
Dem Senator Called on Northam to Resign Amid Blackface Scandal — Now He's Flip-Flopping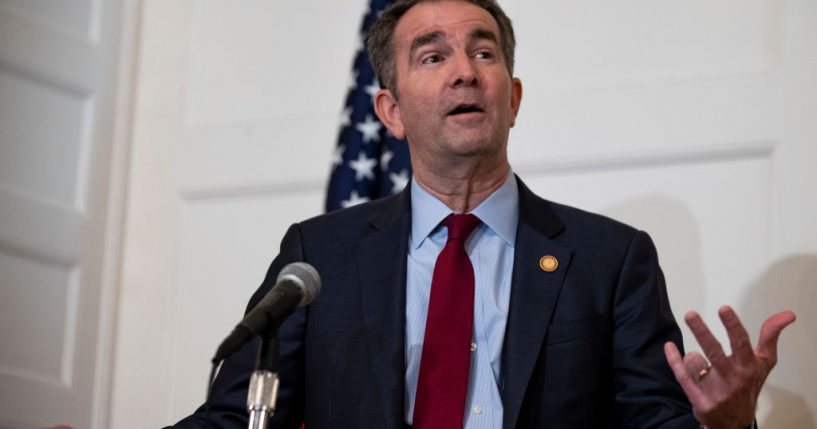 Sen. Tim Kaine (D-Va.) is "glad" outgoing Virginia Gov. Ralph Northam (D) did not resign in 2019.
Despite his call for Northam's resignation amid the blackface scandal, the Virginia senator believes Northam is "the most consequential Virginia governor of the modern era," as The Washington Post puts it.
"I'm glad he didn't listen to me," Kaine told the Post, discussing his previous call for Northam to resign.
Advertisement - story continues below
Northam made headlines in 2019 when a photo in his 1984 medical school yearbook went viral. The photo shows one man wearing blackface and the other wearing a Ku Klux Klan robe.
Kaine previously called on Northam to resign, saying in February 2019 in a joint statement with Sen. Mark Warner (D-Va.) and Rep. Bobby Scott (D-Va.), "After we watched his press conference today, we called Governor Northam to tell him that we no longer believe he can effectively serve as Governor of Virginia and that he must resign."
The statement continued, "Governor Northam has served the people of the Commonwealth faithfully for many years, but the events of the past 24 hours have inflicted immense pain and irrevocably broken the trust Virginians must have in their leaders. He should step down and allow the Commonwealth to begin healing."
Now-President Joe Biden also joined many others in calling for Northam's resignation, tweeting in February 2019, "There is no place for racism in America. Governor Northam has lost all moral authority and should resign immediately, Justin Fairfax is the leader Virginia needs now."
Advertisement - story continues below
In May 2021, Biden called Northam "one of the best governors in the country" at taking on the coronavirus pandemic, according to the New York Post.
In November 2021, Virginia Republican gubernatorial candidate Glenn Youngkin won the Virginia governor's race, defeating Terry McAuliffe, a former governor of Virginia. Youngkin is sworn in as governor on Jan. 15.
Truth and Accuracy
We are committed to truth and accuracy in all of our journalism. Read our editorial standards.
Comment Down Below
Conversation