News
DeSantis Signs Bill Banning Transgender Athletes From Female Sports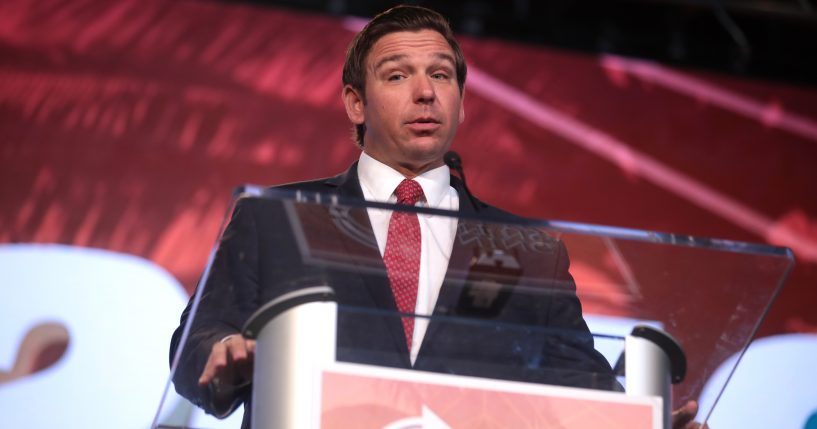 On the first day of Pride Month, Florida Gov. Ron DeSantis (R) signed a bill that bans transgender girls and women from competing in female high school and college sports teams.
During a press conference on Tuesday, DeSantis said, "We believe in the state of Florida protecting the fairness and integrity of women's athletics."
"I can tell you that in Florida, girls are going to play girls' sports, and boys are going to play boys' sports. We're going to make sure that that's the reality," he continued.
Advertisement - story continues below
The law named the "Fairness in Women's Sports Act" limits eligibility for female sports teams based on an athlete's "biological sex" on their birth certificate. Additionally, it lets students sue a school if it lets a transgender girl or woman compete on a female sports team.
CBS 4 in Miami reports that the final version of the bill was stripped of a provision that would have required transgender athletes to "undergo testosterone or genetic testing and submit to having their genitalia examined."
Addressing his decision to sign the bill on the first day of Pride Month, which celebrates the LGBT community, DeSantis said, "It's not a message to anything other than saying we're going to protect fairness and women's sports."
At least five other states have passed bills that ban transgender females from competing on female sports teams.
Advertisement - story continues below
As states began passing such bills, the National Collegiate Athletic Association (NCAA) Board of Governors released a statement that said it "firmly and unequivocally supports the opportunity for transgender student-athletes to compete in college sports."
"When determining where championships are held, NCAA policy directs that only locations where hosts can commit to providing an environment that is safe, healthy, and free of discrimination should be selected. We will continue to closely monitor these situations to determine whether NCAA championships can be conducted in ways that are welcoming and respectful of all participants," the statement added. 
However, DeSantis said he is not concerned about the potential that the NCAA might move games out of Florida.
"Some of these organizations say they're not going to hold events if you do this, just let me say very clearly, in Florida, we're going to do what's right, will stand up to corporations, they are not going to dictate the policies in this state," he said, adding, "We will stand up to groups like the NCAA, who think that they should be able to dictate the policies in different states."
Advertisement - story continues below
The new law goes into effect on July 1.
Truth and Accuracy
We are committed to truth and accuracy in all of our journalism. Read our editorial standards.
Comment Down Below
Conversation