News
DeSantis Shares Whether He Would Consider Pardoning Trump, Jan. 6 Defendants if Elected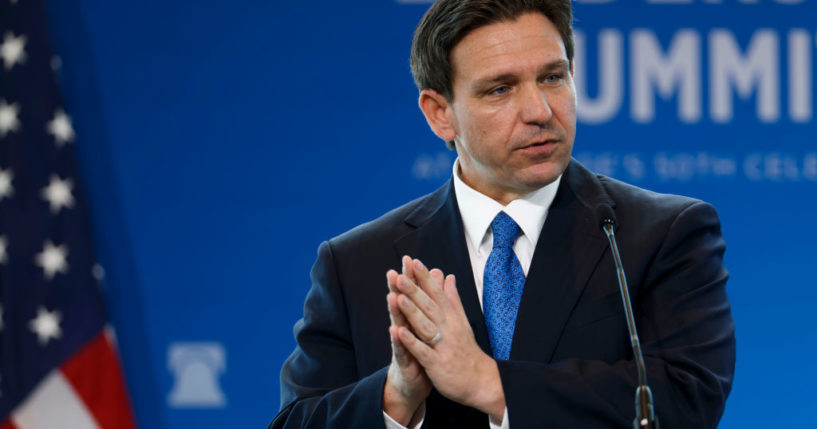 Florida Gov. Ron DeSantis (R) is sharing how he would use his pardon power if elected president.
During an interview with conservative radio hosts Clay Travis and Buck Sexton on Thursday, the newly-minted presidential candidate was asked if he would consider pardoning the 45th president.
Travis kicked off the question by noting, "You have a law background. You've obviously been very aggressive legally in what you can and cannot do as a governor of Florida. Department of Justice, the FBI has gone after the January 6th defendants with reckless, I would say, abandon."
Advertisement - story continues below
"Do you think the January 6th defendants deserve to have their cases examined by a Republican president? And if Trump, let's say, gets charged with federal offenses and you are the President of the United States, would you look at potentially pardoning Trump himself?" he asked.
DeSantis responded, "The DOJ and FBI have been weaponized. We see that. We see it in a variety of contexts, some of which you mentioned. Some of it is the FBI going after parents, going to school board meetings."
He continued:
"Some of it's how they treat a pro-life demonstrator, how they don't go after people that are attacking pro-lifers. And so what I'm going to do on day one, I will have folks that will get together and look at all these cases, who people are victims of weaponization or political targeting, and we will be aggressive in issuing pardons."
Advertisement - story continues below
Listen to the exchange below:
.@GovRonDeSantis tells @ClayTravis and @BuckSexton that he'll consider pardoning the Jan. 6 defendants AND Donald Trump if elected.

Interview: https://t.co/zdDxC59v62
Podcast: https://t.co/WvNDsUybBx pic.twitter.com/qSsq17nt19

— The Clay Travis & Buck Sexton Show (@clayandbuck) May 25, 2023
The governor went on to suggest there could be cases where defendants "may have a technical violation of the law," but there are examples of people in "a context like BLM" who were not charged for a similar violation.
"We will use the pardon power, and I will do that at the front end. You know, a lot of people wait until the end of the administration to issue pardons. We're going to find examples where government's been weaponized against disfavored groups and we will apply relief as appropriate," he added.
DeSantis added the pardons would be "done on a case-by-case basis."
Advertisement - story continues below
Travis pressed, "And that could be from a grandma who got arrested and prosecuted too much all the way up to potentially Trump himself. Is that fair to say when you analyze what the charges might have been brought on a federal level?"
"I would say any example of disfavored treatment based on politics or weaponization would be included in that review, no matter how small or how big," DeSantis responded.
During a CNN town hall event, former President Donald Trump was asked if he would pardon people convicted for participating in the Jan. 6 riot at the U.S. Capitol.
"I am inclined to pardon many of them," Trump responded.
Advertisement - story continues below
He added, "I can't say for every single one, because a couple of them, probably they got out of control."
Truth and Accuracy
We are committed to truth and accuracy in all of our journalism. Read our editorial standards.
Comment Down Below
Conversation