News
Enhanced Unemployment Benefits 'Part of the Problem,' US Chamber of Commerce CEO Says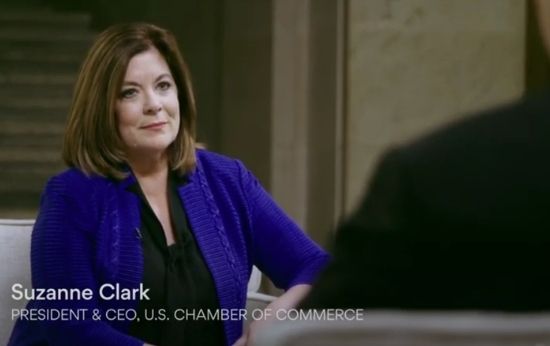 U.S. Chamber of Commerce President and CEO Suzanne Clark is weighing in on enhanced unemployment benefits amid the coronavirus pandemic.
Clark was asked by Axios co-founder Mike Allen, "Do you honestly think people are staying home, not working because of $300 a week?"
"I honestly believe it's part of the problem," Clark responded. "I'm hearing it too often in too many communities across the country for it to be made up."
Advertisement - story continues below
Watch the video below:
The full interview is set to air on Sunday at 6 p.m. EST.
Sen. Lindsey Graham (R-S.C.) shared this week that the $300 weekly federal unemployment checks are the reason "a lot" of his relatives are not working.
Advertisement - story continues below
He said during a Senate Appropriations Committee hearing on Tuesday, "I got a lot of people in my family that ain't working because they're getting — I'll show you some of my family."
"Bottom line is I think there are people out there, they're not bad people, but they're not going to work for $15 an hour if they make $23 unemployed," Graham continued, adding, "That doesn't make you a bad person. If you're working for $15 an hour, that makes you almost a chump."
Last week, the Biden administration indicated it does not plan to renew enhance unemployment benefits, according to The New York Times. As the Times reports, "Some economists say insufficient child care and health concerns may be the main drivers behind Americans not seeking jobs, while unemployment insurance and other pandemic-era policies are giving people the financial flexibility to choose to remain out of work."
The enhanced jobless benefits is set to expire in September.
President Joe Biden said while in Rehoboth Beach, Delaware, "It's going to expire in 90 days. That makes sense."
Advertisement - story continues below
The president previously said in May that he did not believe enhanced unemployment benefits was causing a delay in people returning to work, saying it is "nothing measurable."
There are at least 25 states that have already decided to cut off the additional $300.
White House Press Secretary Jen Psaki said on June 4, "Those governors who have made the decision, as they have every right to do, to pull back on unemployment benefits or not accept them, I should say accurately — that hasn't even taken effect in any state across the country."
She also noted, "It is important for people to understand, factually, that the president — no one from the administration — has ever proposed making these permanent or doing it over the long term."
Truth and Accuracy
We are committed to truth and accuracy in all of our journalism. Read our editorial standards.
Conversation