Commentary
Report Details Eye-Popping Total 'Defund the Police' Dems Spent on Private Security in 2021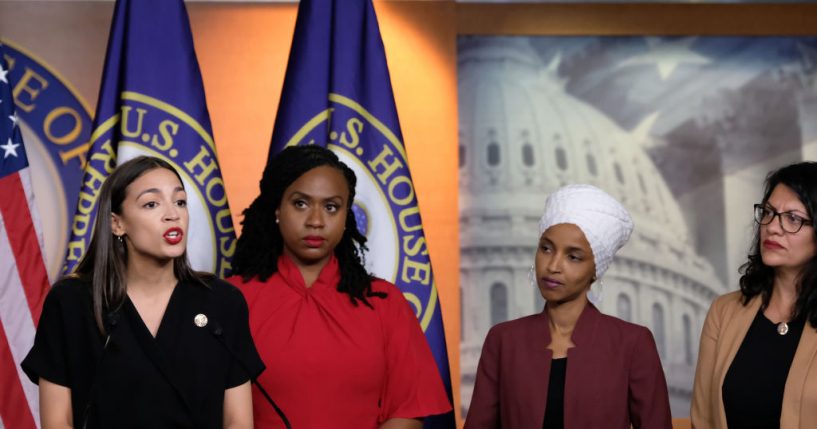 As several Democratic members of the so-called "Squad" in the House are advocating for slashing funding to police departments around the country, they have been spending thousands of dollars on private security for themselves.
According to records from the Federal Election Commission (FEC) that were reviewed by Fox News, liberal Democrats spent $325,000 on their own security while the rest of America is experiencing a crime wave.
Freshman Rep. Cori Bush (D-Mo.) spent the most of all the members of the "Squad" on private security, spending $65,000 in the fourth quarter of 2021 and around $200,000 for the whole year.
Advertisement - story continues below
In August, Bush defended spending thousands of dollars on private security while pushing to defund police departments by arguing that she is just that important.
She told CBS News, "I have private security because my body is worth being on this planet right now…I'm going to make sure I have security because I know I have had attempts on my life. And I have too much work to do. There are too many people that need help right now for me to allow that."
"So if I end up spending 200,000, if I spend ten more dollars on it, you know what? I get to be here to do the work. So suck it up. And defunding the police has to happen. We need to defund the police and put that money into social safety nets because we're trying to save lives," Bush added.
In case you missed it:
Advertisement - story continues below
Rep. Alexandria Ocasio-Cortez (D-N.Y.) was the next highest spender of the year. According to Fox, she spent $9,800 in the fourth quarter and under $75,000 for the whole year.
Other Democrats in favor of defunding the police spent thousands of private security last year as well.
Rep. Ilhan Omar (D-Minn.) spent $30,000, Rep. Ayanna Pressley (D-Mass.) spent roughly $14,000, Rep. Jamaal Bowman (D-N.Y.) spent $7,872, and Rep. Rashida Tlaib (D-Mich.) spent less than $3,000.
After the George Floyd protests in 2020, several cities tried out defunding police departments, and results were predictable and predicted.
Advertisement - story continues below
In 2021, major cities around the country saw a 5% increase in homicides since 2020, and a 44% increase compared to 2019. According to CBS News, "Experts believe pandemic pressures and changes in policing tactics have contributed to the uptick in homicides. "
Retail and car thefts also surged around the country last year.
The situation got so bad in San Francisco, California, that Mayor London Breed (D), who slashed the police department's budget in 2020, railed against the "reign of criminals" and "bullsh*t that has destroyed our city," and announced a plan to crack down on crime.
Several other cities have also changed course after cutting police budgets. And White House Press Secretary Jen Psaki in part blamed the surge in crime on the "underfunding of some police departments and their need for additional resources."
Advertisement - story continues below
If members of the "Squad" could take their rose-colored partisan lenses off, they would see that the very policies they are advocating are hurting the millions of Americans they claim to fight for who probably can't spend $3,000, much less $200,000 on private security.
Are there some reforms that can be made to policing tactics? Yes. But the results show that slashing departments' budgets is not working out as well as promised.
Truth and Accuracy
We are committed to truth and accuracy in all of our journalism. Read our editorial standards.
Comment Down Below
Conversation