News
Facebook Executive Defends Trump's Suspension: Praising Acts of Violence Is a 'Red Line'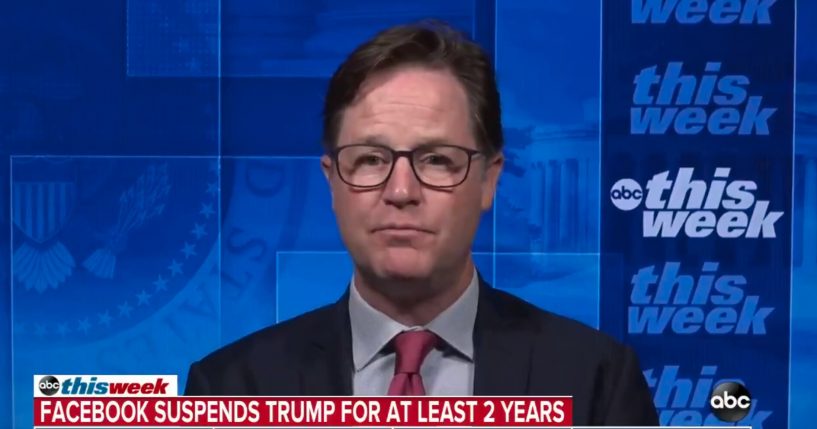 Facebook's Vice President of Global Affairs Nick Clegg is defending the company's decision to extend its suspension of former President Donald Trump for another two years, over what Facebook says was his encouragement of violence.
During an appearance on ABC's "This Week" on Sunday, Clegg was asked if Trump would be suspended again if he spread lies on the platform.
Host George Stephanopolous asked, "What about the lies about the election? The president repeated a series of those last night again. If the president gave the speech he gave last night in January 2023, would the suspension be extended?"
Advertisement - story continues below
Clegg noted that Facebook has fact-checkers that add notices to posts if they deem them to be false or missing context. He added, "Of course, there is action we take on misinformation. But I want to be very clear, I don't think anybody wants a private company like Facebook to be vetting everything that people say on social media for its precise accuracy and then booting people off the platform if what they say is inaccurate."
Watch the video below:
On the threshold for Facebook suspending an account, @GStephanopoulos presses the platform's Vice Pres. of Global Affairs Nick Clegg: "So the bright red line there is encouraging violence, not spreading lies?"

Clegg: "Yeah." https://t.co/Cbmq1pOrfW pic.twitter.com/ACGHOMBNZJ

— This Week (@ThisWeekABC) June 6, 2021
Stephanopolous interjected, "So the bright red line there is encouraging violence, not spreading lies?"
Advertisement - story continues below
"Yeah," Clegg responded, "We've got very clear rules. They're called community standards. Everyone can go online to see them, and one of the brightest of those red lines, as you just implied, is that you cannot — it doesn't matter who you are, you could be the Pope, the Queen of England, the President of the United States — you cannot use our services, and I hope most people would think this is reasonable, to aid, abet, foment, or praise acts of violence."
Clegg's comments come days after Facebook announced it would extend Trump's suspension for two years until Jan. 7, 2023.
After the two years, the company said it will "look to experts to assess whether the risk to public safety has receded."
In January, Facebook announced it would suspend Trump indefinitely after it said he violated the company's rules and encouraged violence.
Facebook's independent Oversight Board upheld the ban last month as it said, "Trump's posts during the Capitol riot severely violated Facebook's rules and encouraged and legitimized violence."
Advertisement - story continues below
However, it said Facebook violated its own rules by "imposing a suspension that was 'indefinite.'" Additionally, it gave Facebook six months to "decide a new penalty that reflects its rules, the severity of the violation, and prospect of future harm."
Truth and Accuracy
We are committed to truth and accuracy in all of our journalism. Read our editorial standards.
Comment Down Below
Conversation