News
Fauci: Biden Admin Is Not Considering a Domestic Flight Vaccine Mandate but It Is 'Keeping an Open Mind'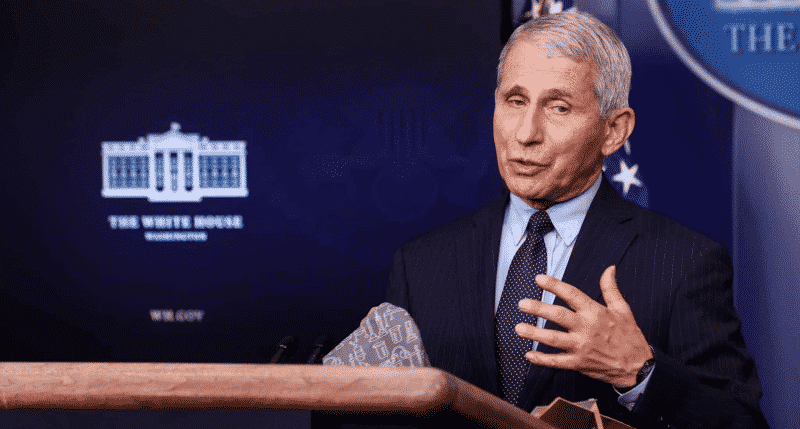 Dr. Anthony Fauci says the Biden administration is not considering implementing a COVID-19 vaccine mandate for domestic air travel but is not ruling it out either.
During a press briefing on Wednesday, Fauci said, "When we talk about keeping America safe, and keep our citizens safe, everything that is an intervention is always on the table and always discussed. And we discuss it regularly on a daily and weekly basis."
"When you're dealing with domestic flights, you want to keep people safe on domestic flights. And as I said, right now, we feel that the masking requirement and the degree of filtration on a plane is sufficient to keep people safe," he continued.
Advertisement - story continues below
The infectious disease expert, however, said that the administration will "seriously consider" implementing a vaccine mandate "as new information arises."
"So it's just keeping an open mind that the situation may change, but at this particular time, we do not feel that it is necessary to make that a requirement for domestic flights," he added.
Listen to Fauci's comments below:
The U.S. is not considering a vaccine mandate for domestic flights at the moment but Dr Fauci says it is "keeping an open mind" as the situation develops pic.twitter.com/9V7gnyPdB2

— Bloomberg Quicktake (@Quicktake) December 29, 2021
Advertisement - story continues below
His comments come amid growing concerns about the spread of the Omicron variant of the coronavirus.
Dr. Amesh Adalja, a senior scholar at the Johns Hopkins University Center for Health Security in Baltimore, told NBC News, "Transmission on a plane of COVID-19 is not very common because of the (air) circulation and because of the mask wearing."
"(But) there's always going to be some level of COVID risk with any activity you do, whether it's flying, riding the bus or going to the post office… for most people, I think it's an acceptable risk," Adalja added.
A study conducted by United Airlines and the Defense Department found that there was a low risk of contracting the virus on a commercial flight when passengers wore masks for the duration of the flight.
However, a study published in the Journal of Travel Medicine in May 2021 found that on flights where passengers took their masks off at the same time for a one-hour meal service, the chance of contracting the virus increased by 59%.
Advertisement - story continues below
Earlier this month, President Joe Biden extended the mask mandate for air travel. The mandate also requires that people wear masks on buses, trains, and in airports and train stations.
Truth and Accuracy
We are committed to truth and accuracy in all of our journalism. Read our editorial standards.
Comment Down Below
Conversation