News
Fauci: We Should Not Be 'Accusatory' Toward China Amid Search for COVID-19 Origins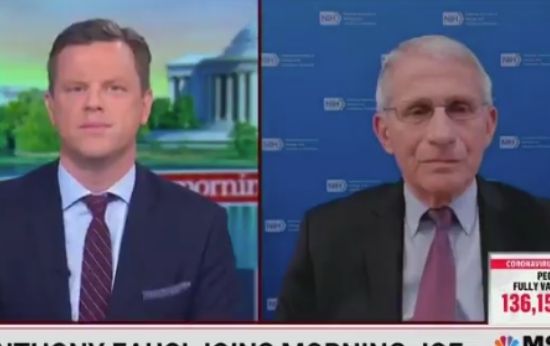 Dr. Anthony Fauci, the chief medical advisor to the president, says there should not be an "accusatory" approach as the search continues to find the origins of COVID-19.
During Thursday's interview on MSNBC, Fauci was asked by "Morning Joe" co-host Willie Geist, "Why is it so hard to find the source of this outbreak … Is it because China is so opaque? Is it because WHO was not sharing information? Why is this so difficult?"
Fauci, the director of the National Institute of Allergy and Infectious Diseases, said there are "several reasons" why it is so difficult and called for "better access" to information. He added that he believes it "is in China's interest to find out exactly what it is," before adding, "Obviously you want openness and cooperation."
Advertisement - story continues below
"One of the ways you can get it is, don't be accusatory," he continued. "Try to get both a forensic, a scientific and an investigational approach."
Fauci added, "I think the accusatory part about it is only going to get them to pull back even more."
Watch his comments below:
Fauci refuses to go after China for destroying evidence & refusing to cooperate with investigators; says the U.S. shouldn't be "accusatory" as it will make them "pull back more" pic.twitter.com/BkoFdj4c7l

— Tom Elliott (@tomselliott) June 3, 2021
Advertisement - story continues below
Geist then pressed Fauci on if it is in China's interest to "hide it if there was a lab leak or worse."
"Wouldn't they want to conceal that?" Geist asked. Fauci replied, saying he does not want to "speculate" on that because his remarks will get "completely taken out of context."
Fauci, the nation's top infectious disease expert, recently revealed that he is "not convinced" that COVID-19 "developed naturally," as IJR reported on.
He was asked by PolitiFact's Katie Sanders if he is "still confident" the virus "developed naturally" since there is "a lot of cloudiness around the origins of COVID-19 still."
"No, actually," Fauci replied, according to footage obtained by Fox News. "I am not convinced about that. I think we should continue to investigate what went on in China until we continue to find out to the best of our ability what happened." 
Advertisement - story continues below
He continued, "Certainly, the people who investigated it say it likely was the emergence from an animal reservoir that then infected individuals, but it could have been something else, and we need to find that out. So, you know, that's the reason why I said I'm perfectly in favor of any investigation that looks into the origin of the virus."
Truth and Accuracy
We are committed to truth and accuracy in all of our journalism. Read our editorial standards.
Conversation