News
Fauci Family Net Worth Increased to Whopping Sum During COVID Pandemic: Report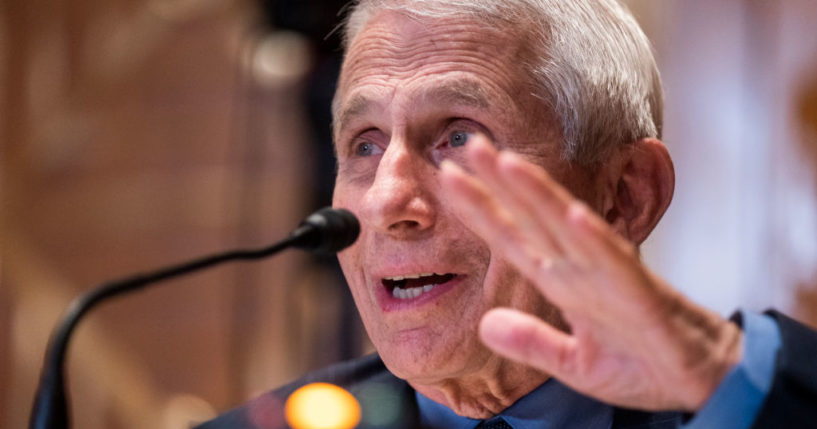 National Institute of Allergy and Infectious Diseases director Anthony Fauci and his wife's net worth saw a net worth increase of $5 million during the pandemic.
The combined net worth of the Faucis was $7.6 million in early 2019 to $12.6 million at the end of 2021, according to watchdog group OpenTheBooks
Fauci maintained his position as the federal employee with the highest salary, receiving $456,000 in 2021 and $480,000 in 2022. Fauci has earned more than the president, four-star generals, and the roughly 4.3 million additional federal bureaucrats, according to Fox News.
Advertisement - story continues below
At a time when businesses nationwide were struggling to stay afloat, Fauci was able to augment his government income with almost $1 million in prizes from non-profit organizations worldwide, according to OpenTheBooks.
"While Dr. Fauci has been a government bureaucrat for more than 55 years, his household net worth skyrocketed during the pandemic," OpenTheBooks CEO Adam Andrzejewski told Fox News Digital. "Fauci's soaring net worth was based on career-end salary spiking, lucrative cash prizes awarded by non-profit organizations around the world and an ever-larger investment portfolio."
The nonprofit CEO went on saying, "Despite becoming a figure of controversy, the system has rewarded Dr. Fauci handsomely. For example, he is the top-paid federal employee, his first-year golden parachute retirement pension is the largest in federal history, and he's accepting $1 million prizes from foreign non-profits."
Advertisement - story continues below
Overall, the Fauci family's income, perks, and unrealized gains from investments totaled $2,832,876 during the continuing pandemic year of 2021. This included $903,497 in federal income and benefits, $919,205 in royalties and travel advantages from outside sources, and $910,174 in investment profits.
In January of this year, Fauci's investments were called into the limelight when Sen. Roger Marshall (R-KS) and Fauci clashed over the doctor's  "significant investments" in China.
"Dr. Fauci and his spouse made almost $2 million during 2020," Marshall said on Fox News in a January interview. "So during 2020, you'd recall, if you were a bartender or a barber, you couldn't make a living, but Dr. Fauci managed to squeak together almost $2 million."
The lawmaker went on to say, "A significant amount of these investments are investments in China and Hong Kong…He had significant investments in China through one of his mutual funds."
Truth and Accuracy
We are committed to truth and accuracy in all of our journalism. Read our editorial standards.
Comment Down Below
Conversation