News
FBI Responds to Trump's Claim He Saved Florida's 2018 Election From Voter Fraud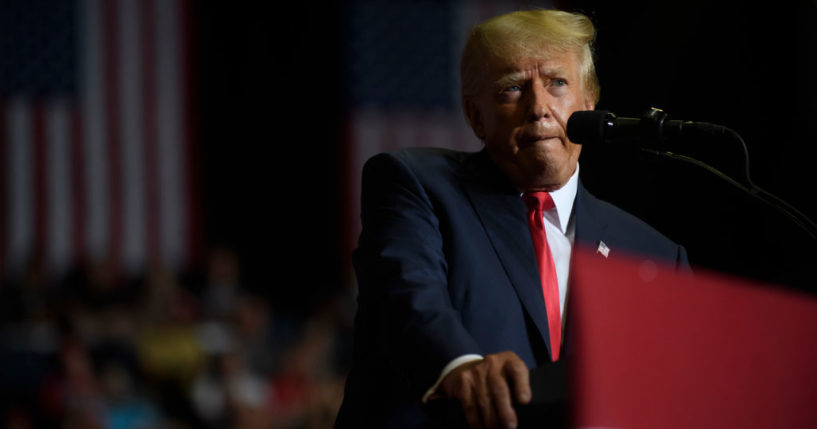 The FBI is reacting to former President Donald Trump's claim he stepped in to stop Florida's 2018 election from being stolen through fraud.
NBC News filed a Freedom of Information Act request for records to related the claim.
In a letter dated Mar. 6, 2023, to the network, the FBI said it searched its Central Records System. However, it was "unable to identify records" connected to the former president's claim.
Advertisement - story continues below
The law enforcement agency also stated it expedited its search because it was a "matter of widespread and exceptional media interest in which there exist possible questions about the government's integrity which affect public confidence."
The response comes months after Trump suggested Florida Gov. Ron DeSantis' (R) 2018 election victory was almost stolen through fraud.
In a post on his Truth Social platform that was also blasted out in an email, Trump wrote, "[A]fter the Race, when votes were being stolen by the corrupt Election process in Broward County, and Ron was going down ten thousand votes a day, along with now-Senator Rick Scott."
"I sent in the FBI and the U.S. Attorneys, and the ballot theft immediately ended, just prior to them running out of the votes necessary to win. I stopped his Election from being stolen," he added.
Advertisement - story continues below
Check out the statement below:
NEW: Trump goes postal on DeSantis 👇 pic.twitter.com/WoXM0AEY2S

— Curtis Houck (@CurtisHouck) November 10, 2022
DeSantis won his first election bid by roughly 32,000 votes.
CNN's Paul Reid fact-checked Trump's claim in November as she noted, "In November 2018, Governor Rick Scott, the Republican nominee for Senate, accused two of the state's largest counties of fraud. Trump joined in, tweeting at the time. 'Don't worry, Florida, I am sending much better lawyers to expose the fraud.'"
"Now, Scott and then-Florida Attorney General Pam Bondi, a very close ally of the former president, called on the Florida Department of Law Enforcement to investigate. They did. And that 18-month investigation found no evidence of widespread fraud," she continued.
Advertisement - story continues below
Finally, she said, "There's nothing we have seen to indicate that former President Trump did attempt to leverage federal law enforcement to help Republicans in 2018."
Sarah Isgur, a former Department of Justice (DOJ) spokesperson, also shot down Trump's claim in a tweet, "Never happened."
Never happened. https://t.co/c0nfm7tCEl

— Sarah Isgur (@whignewtons) November 11, 2022
Meanwhile, Rep. Ted Lieu (D-Calif.) tweeted that Trump "makes stuff up all the time."
Advertisement - story continues below
"But if what Trump is saying in his post is true, then the [DOJ] needs to investigate whether the former President used federal agents to interfere in an election," he added.
Truth and Accuracy
We are committed to truth and accuracy in all of our journalism. Read our editorial standards.
Comment Down Below
Conversation