Former FBI Agent Strzok Claims Russian Officials Have 'Leverage' Over Trump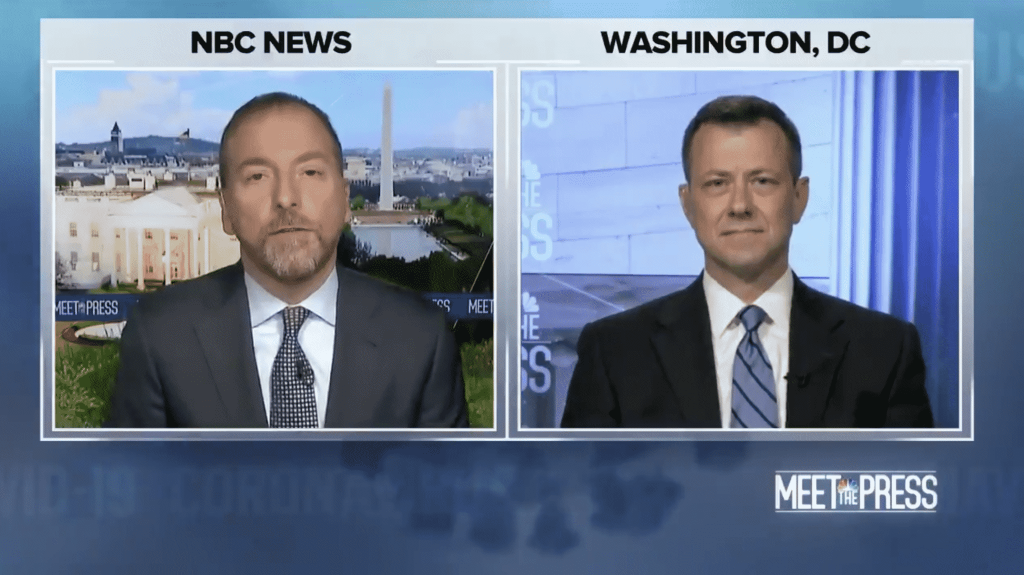 Former FBI agent Peter Strzok says he believes that Russian officials have some kind of "leverage" over President Donald Trump that allows them to "influence his actions."
Strzok shared his belief that Trump has been "compromised" by Russian officials during an appearance on NBC's "Meet The Press" on Sunday.
"I think it is clear, I believed at the time in 2016, and I continue to believe, Donald Trump is compromised by the Russians," Strzok said.
He continued, "And when I say that, I mean that they hold leverage over him that makes him incapable of placing the national interests, the national security ahead of his own."
Strzok noted that "one of the largest ways" that foreign governments can gain leverage over someone is "financial entanglements."
"And I think when you take a look at the Trump financial enterprise — particularly its relationship with Russia, with Russian monies, and potentially those related to organized crime and other outlets — that those interactions have placed him in a position where the Russians have leverage over him and are able to influence his actions," he added.
Watch the video below:
Strzok was a frequent target of the president and his supporters after it was revealed that he sent several anti-Trump text messages on FBI phones while he was working on cases involving Trump.
The Justice Department inspector general released a review that found Strzok made " statements of hostility" toward Trump and "statements of support" for Hillary Clinton.
In his new book "Compromised," Strzok defended his texts and maintained that he kept his private views separate from his professional duties.
Since the 2016 election, many pundits and elected officials speculated whether Russian officials have some sort of leverage over Trump.
While Special Counsel Robert Mueller's investigation did not focus on whether the president was compromised by the Russians, he did not shoot down the possibility during his testimony before the House in 2019.

House Intelligence Committee Chairman Adam Schiff (D-Calif.) suggested that Russian officials may have a recording of a phone call between Trump's former lawyer Michael Cohen and the spokesperson for the Kremlin.
Schiff said that would disprove Trump's claim from 2016 that "I have no dealings with the Russians." And he suggested that a recording of that call could be used as leverage over Trump.
Former FBI Director James Comey was also asked if Russians have leverage over the president, he responded, "I don't know the answer to that."
However, he said he believes it is possible that they do.
Supporters of the president have dismissed the allegation as baseless and a "content-less smear."