News
Former WH Doctor Labels Biden a 6-Letter Word After News He Had a Cancerous Lesion Removed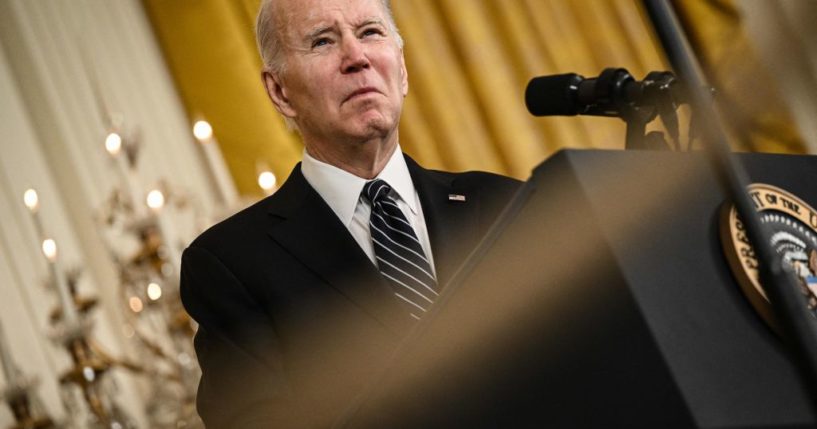 Rep. Ronny Jackson (R-Texas) claims President Joe Biden, not a cancerous lesion, is what needs to be removed.
Jackson appeared on Fox News' "Sunday Morning Futures" and was asked by host Maria Bartiromo about the news a lesion was removed from Biden.
He took a shot at the president by labeling him a six-letter word as he said, "Well, look, Maria, I'll start by saying Biden is the cancer."
Advertisement - story continues below
"He's what needs to be removed, not the lesion they found," Jackson added.
https://twitter.com/atrupar/status/1632404392631468033
Dr. Kevin O'Connor, the White House physician, revealed on Friday a lesion was removed from Biden.
He added it was "biopsied," and "as expected," it tested positive for basal cell carcinoma.
Advertisement - story continues below
O'Connor also said the area where the lesion was removed had "healed nicely."
"All cancerous tissue was successfully removed," O'Connor shared.
He also noted, "Basal cell carcinoma lesions do not tend to 'spread' or metastasize, as some more serious skin cancers such as melanoma or squamous cell carcinoma are known to do."
Jackson, who worked as the White House physician under former President Barack Obama and former President Donald Trump, has harshly criticized Biden.
In February, he tweeted, "It's TERRIFYING for our country that Biden is our commander-in-chief. He doesn't know where he's at half the time, and every day he brings us closer to an all-out war with Russia [and] China."
Advertisement - story continues below
"His cognitive decline is going to get people KILLED!!" the congressman claimed.
Jackson's criticism of Biden reportedly led to a rebuke from one of his former bosses.
In his memoir, Jackson revealed that Obama sent him an email after he tweeted an attack against Biden in 2020. It reportedly read, "I have made a point of not commenting on your service in my successor's administration and have always spoken highly of you both in public and in private. You always served me and my family well, and I have considered you not only a fine doctor and service member but also a friend."
"That's why I have to express my disappointment at the cheap shot you took at Joe Biden via Twitter. It was unprofessional and beneath the office that you once held," he added.
Advertisement - story continues below
According to Jackson, Obama also said his comments were "disrespectful to me and the many friends you had in our administration," and urged him to "expect more of yourself in the future."
However, Jackson said he declined to respond to the email, and it was "the last time I had any contact with [Obama]."
Truth and Accuracy
We are committed to truth and accuracy in all of our journalism. Read our editorial standards.
Comment Down Below
Conversation