News
Fox News' Bret Baier Acknowledges 'Concerns' About Tucker Carlson's Jan. 6 Documentary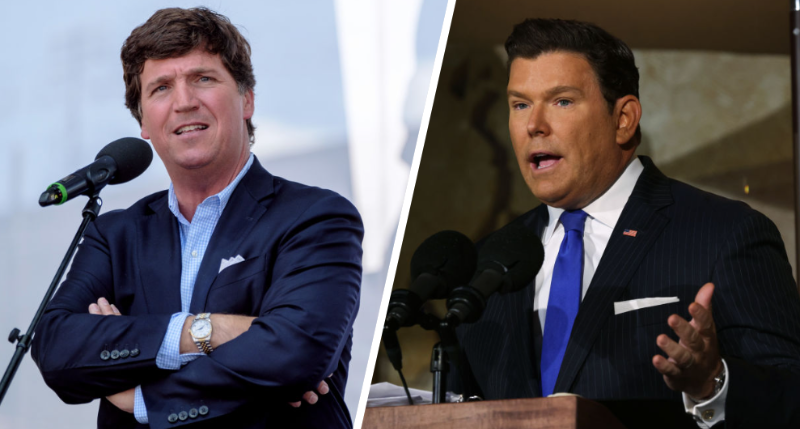 Fox News' Bret Baier is acknowledging there were "concerns" about Tucker Carlson's documentary on the Jan. 6 riot at the U.S. Capitol.
Baier's comments come after conservative commentators Jonah Goldberg and Steve Hayes said in a statement they would be resigning from their contributor roles at Fox News due to the documentary.
The network's Brian Kilmeade had Baier on his radio show on Tuesday and asked, "What's going on with Steve Hayes and Jonah Goldberg? Why did they not want to come on?"
Advertisement - story continues below
"I think it was a tough choice but one that they made on principle. And, you know, and I'm going to let them speak for themselves," Baier responded. "It's sad to see them go, and you know I'm always for hearing all kinds of voices, left, right, Trump, whoever, supporters."
He continued, "So, it's sad for 'Special Report,' I think for the network, but they made their choice on principle, so I'll let their statement stand," he added.
Kilmeade noted that he watched Carlson's documentary, and it had an "interesting perspective" about Jan. 6, but he added, "I didn't get hurt by it. I didn't get damaged by it."
He asked, "Were you bothered by it? Because that's the reporting."
Advertisement - story continues below
"There's a…Brian, I don't want to go down this road," Baier said, adding, "You know, I mean, there were concerns about it definitely."
He continued, "I think that the news division did what we do. And we covered the story. And I wanted to do all of that internally. Steve and Jonah made the decision, and it's their decision."
Listen to exchange below:
Fox News' Brian Kilmeade on his radio show asks his colleague Bret Baier about Tucker Carlson's "Patriot Purge" documentary and if he voiced any concerns:

"I don't want to go down this road … I mean, there were concerns about it definitely." pic.twitter.com/RJD6yWSdfG

— Alex Salvi (@alexsalvinews) November 23, 2021
Baier's comments come after Goldberg and Hayes said in a statement that they were leaving the network over Carlson's documentary "Patriot Purge."
Advertisement - story continues below
"The special—which ran on Fox's subscription streaming service earlier this month and was promoted on Fox News—is presented in the style of an exposé, a hard-hitting piece of investigative journalism. In reality, it is a collection of incoherent conspiracy-mongering, riddled with factual inaccuracies, half-truths, deceptive imagery, and damning omissions," the two said in a statement.
They continued, "And its message is clear: The U.S. government is targeting patriotic Americans in the same manner —and with the same tools—that it used to target al Qaeda."
"This is not happening. And we think it's dangerous to pretend it is. If a person with such a platform shares such misinformation loud enough and long enough, there are Americans who will believe—and act upon—it," the statement added.
The duo said that Fox News does "real reporting." However, they claimed that "voices of the responsible are being drowned out by the irresponsible."
Advertisement - story continues below
Carlson reacted to their departure calling it "great news."
While Hayes and Goldberg said they decided to leave over the documentary, a Fox News executive told The Hollywood Reporter that the network did not intend to renew their contributorships.
Truth and Accuracy
We are committed to truth and accuracy in all of our journalism. Read our editorial standards.
Comment Down Below
Conversation