News
Fox Reporter Asks Psaki if Biden Is 'Aware' He Was Caught On a Hot Mic Calling Her Question 'Stupid'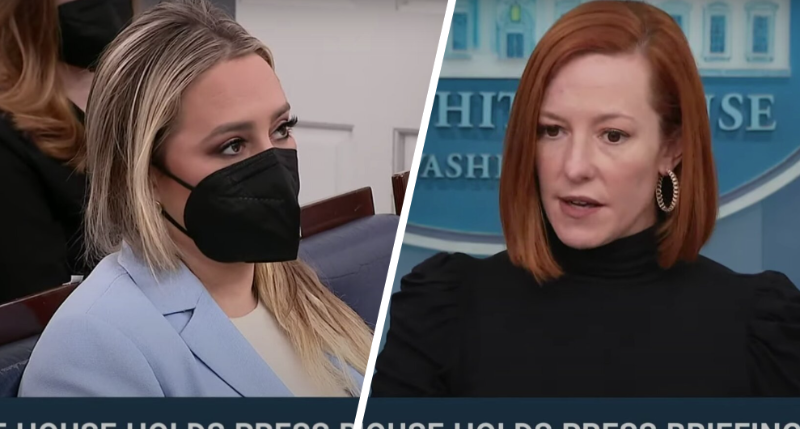 White House Press Secretary Jen Psaki was asked about a video that shows President Joe Biden calling a reporter's question "stupid."
Fox News' Jacqui Heinrich asked Psaki during a press briefing on Friday, "Is the president aware that he was caught on a hot mic yesterday, and why does he appear to be dismissing the idea of proactive deterrence?"
"Well, the president certainly does not dismiss that idea, considering he has taken a lot of steps, including supporting and approving the several sanctions that were put out by the Treasury Department just a couple of days ago," Psaki responded.
Advertisement - story continues below
She continued to list a series of steps the Biden administration has taken to help bolster Ukraine's defenses. She added, "So I would say the president is hardly waiting, [his] actions are pretty clear on that front."
Watch the video below:
Heinrich asked the press secretary about her Thursday statement that it is "important to remember who the aggressor is here.  The aggressor is Russia and Putin.  They are building up military troops.  They are pushing out misinformation in Ukraine."
Advertisement - story continues below
"Why does it seem like U.S. officials are so concerned about being seen as escalating things if Russia has created this whole crisis?" Heinrich asked.
Psaki responded, "I think we want the American public, and also the global community, to be clear-eyed about propaganda, and they are pushing propaganda about Ukrainians. Certainly, there's propaganda pushed here in the United States."
Do you think the U.S. is "waiting on Putin"?
"But this is about a potential foreign conflict. It's about the buildup of troops by one power that is a much larger military power than the other on the border. And we want to be very clear with the public about the realities and the facts," she added.
On Thursday, Heinrich tried to ask Biden why the U.S. is apparently "waiting on [Russian President Vladimir Putin] to make the first move."
Biden did not address the query but let out a chuckle and a quip that was caught on a hot mic as he said, "What a stupid question."
Truth and Accuracy
We are committed to truth and accuracy in all of our journalism. Read our editorial standards.
Comment Down Below
Conversation