News
'Frankly Disgusting': CNN Host Whacks Justice Alito for Comments About Foreign Leaders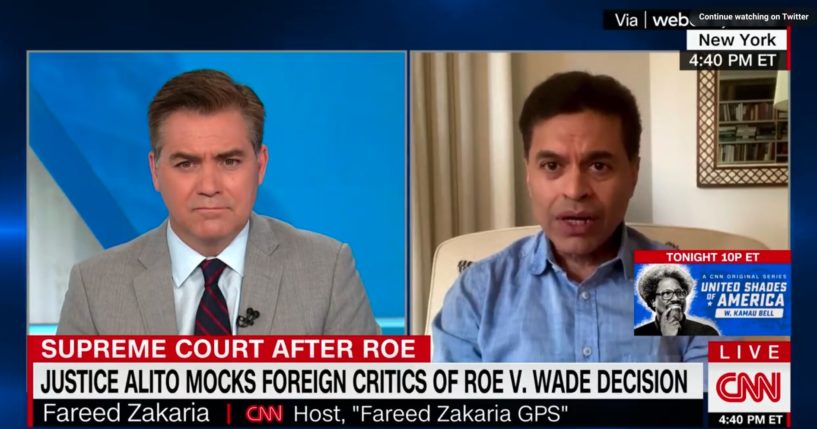 Supreme Court Justice Samuel Alito is coming under fire for comments he made pushing back on foreign leaders' criticism of the decision to overturn Roe v. Wade.
On Sunday, CNN's Fareed Zakaria, host of "Fareed Zakaria GPS," said, "The reason they have that legitimacy is, to put it very simply, that they behave themselves, that they behave in accordance with the kind of dignity and majesty of the court."
"What Alito did, behaving like a cheap commentator, and not a particularly good one at that, was frankly disgusting. I mean, I thought it was the most undignified performance by a Supreme Court justice that I have seen in my lifetime," he continued.
Advertisement - story continues below
Watch the video below:
ICYMI: @FareedZakaria says Justice Alito's controversial speech mocking foreign leaders who slammed the decision overturning Roe "not only damages Alito, who looks like an idiot, but also damages the court…" pic.twitter.com/vLSkuANHth

— Jim Acosta (@Acosta) July 31, 2022
Finally, Zakaria said, "I don't think any of his predecessors would have done it. I think it's scandalous. I don't think there is a disciplining [sic] procedure.
"But if John Roberts wants to fulfill his role as chief justice, I think he should call Justice Alito in and try to explain to him why this damages not just Alito — who looks like an idiot — but it damages the court. It makes it look less dignified… less cerebral, and ultimately less respectful of the country that it is ultimately in this extraordinary position of power over," he added.
Advertisement - story continues below
In June, the court overturned Roe, as IJR reported.
The opinion, which was written by Alito, stated, "Abortion presents a profound moral question. The Constitution does not prohibit the citizens of each State from regulating or prohibiting abortion."
"The Constitution does not confer a right to abortion; Roe and Casey are overruled; and the authority to regulate abortion is returned to the people and their elected representatives," it added.
During a speech at a religious liberty summit in July, Alito said, "I had the honor this term of writing, I think, the only Supreme Court decision in the history of that institution that has been lambasted by a whole string of foreign leaders who felt perfectly fine commenting on American law."
"One of these was former Prime Minister Boris Johnson, but he paid the price," he said.
Advertisement - story continues below
In case you missed it:
His comments refer to Johnson's decision to step down as prime minister last month.
The justice also took aim at Prince Harry's speech at the United Nations, saying, "What really wounded me was when the duke of Sussex addressed the United Nations and seemed to compare the decision whose name may not be spoken with the Russian attack on Ukraine."
Advertisement - story continues below
"Despite this temptation, I'm not going to talk about cases from other countries," he added.
Truth and Accuracy
We are committed to truth and accuracy in all of our journalism. Read our editorial standards.
Comment Down Below
Conversation