Freshman GOP Rep. Peter Meijer: Voting To Impeach Trump 'May Very Well Have' Ended My Career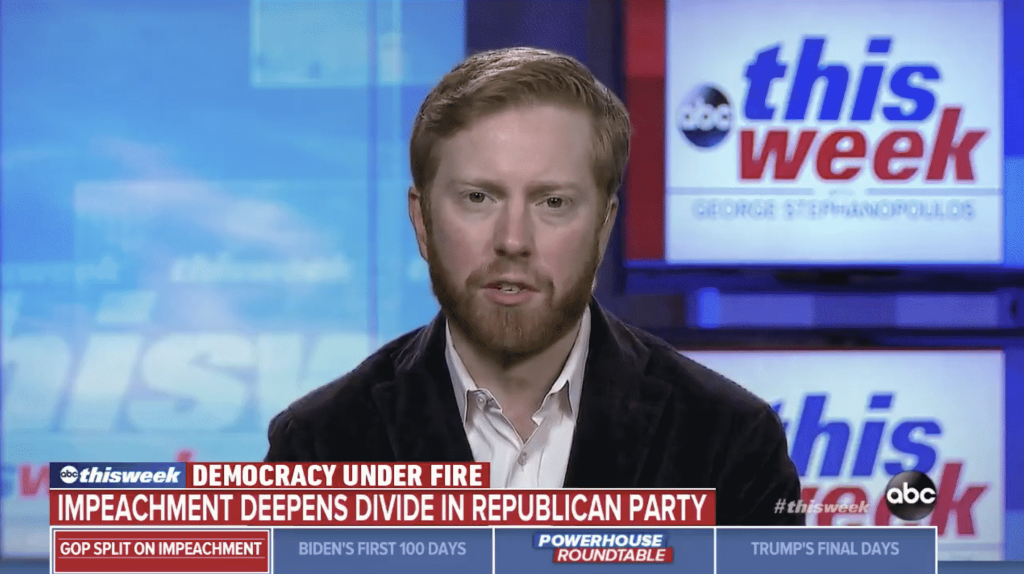 Just 10 House Republicans broke ranks to vote to impeach President Donald Trump on the charge that he incited an insurrection with his speech at a rally on January 6.
During an appearance on ABC's "This Week," freshman Rep. Peter Meijer (R-Mich.), one of the Republicans who voted to impeach the president, was asked if he was worried that his vote essentially ended his political career.
"I may very well have," Meijer said, adding, "But I think it's also important that we have elected leaders who are not thinking solely about what's in their individual self-interest. Not what is going to be politically expedient, but what we actually need for the country."
Meijer went on to note that he holds the same seat former President Gerald Ford held before entering the White House and, "He committed a courageous act when he pardoned Richard Nixon, but it ended his political career going forward."
Watch the video below:
ABC: Are you concerned you ended your career with your vote to impeach Trump?

REP. MEIJER (R): I may very well have, but I think it's also important that we have elected leaders who aren't thinking solely about their self-interest pic.twitter.com/1e4Tdx9P61

— Aaron Rupar (@atrupar) January 17, 2021
Ford lost his 1976 election bid to Jimmy Carter, roughly two years after assuming the office following Nixon's resignation.
Finally, Meijer said, "I think that is the… Obviously, [I] don't wanna follow in the footsteps of [Ford] in terms of the next election. But, wanna make sure that we have leaders in office who are focusing on the fact we are a nation of laws, not men, and who are putting the interests of the country first, rather than their own political careers."
House lawmakers advanced one article of impeachment against Trump on Wednesday, accusing him of inciting the mob of Trump supporters who stormed the U.S. Capitol on January 6.
While only a handful of Republicans voted to impeach the president, that does not mean the rest do not hold Trump at least partially responsible for the riot.
Newly sworn-in Rep. Nancy Mace (R-S.C.) said that Trump's speech at the rally before the riot "put all of our lives at risk" and that "we do need to find a way to hold the president accountable."