Gabbard Hits Clinton With $50 Million Defamation Lawsuit for Calling Her a 'Russian Asset'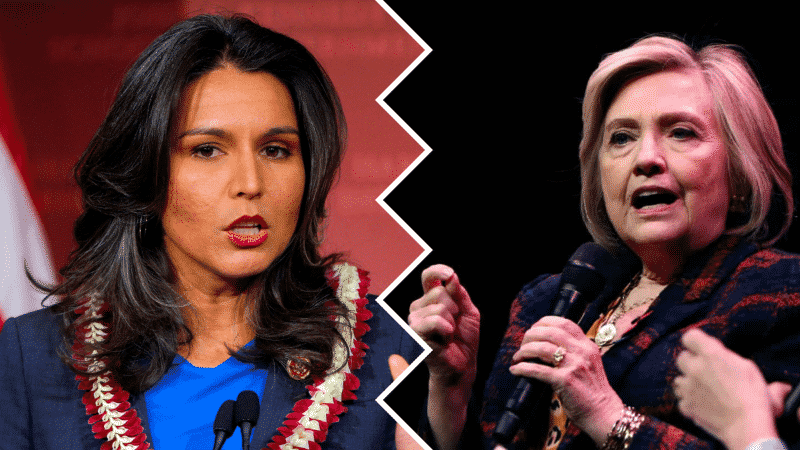 2020 Democratic presidential contender Tulsi Gabbard filed a $50 million defamation lawsuit against former Secretary of State Hillary Clinton for calling her a "Russian asset" during an interview late last year.
The lawsuit states that Clinton made her comments "publicly, unambiguously, and with obvious malicious intent" to harm Gabbard.
Gabbard says that "malicious intent" is proven by the fact that Clinton has not retracted her comments, and has not produced evidence to corroborate her allegation.
In a blistering attack on Clinton's character, the lawsuit describes Clinton as a "cutthroat politician" who has sought revenge for Gabbard's "perceived slight" of endorsing Sen. Bernie Sanders (I-Vt.) in the 2016 presidential primary.
The suit alleges that Clinton's allegation made her suffer "anguish and damage to her reputation."
During an interview on the "Campaign HQ" podcast in October, Clinton alleged there was a Democratic presidential candidate who was "the favorite of the Russians" and an "asset" of Russia, as IJR has previously reported.
"They are also going to do third party again. I'm not making any predictions, but I think they've got their eye on somebody who is currently in the Democratic primary and are grooming her to be the third-party candidate. She's the favorite of the Russians. They have a bunch of sites and bots and other ways of supporting her, so far."
While Clinton didn't mention Gabbard by name during the interview, her spokesperson later confirmed that she was talking about Gabbard.
Gabbard's suit contends that while several 2020 Democratic presidential candidates defended her and refuted the allegation, Clinton's goal was accomplished because her comments were disseminated by numerous media outlets.
"In short, Clinton got exactly what she wanted by lying about Tulsi — she harmed her political and personal rival's reputation and ongoing Presidential campaign, and she started a damaging whisper campaign based on baseless, but vicious, untruths."
Finally, Gabbard claims she has "suffered significant actual damages, personally and professionally, that are estimated to exceed $50 million."
Gabbard has blasted Clinton throughout the campaign, calling her a "warmonger" and the "embodiment of corruption."
Published in IJR