News
Garland Pressed on DOJ's Decision To Defend Trump in Defamation Lawsuit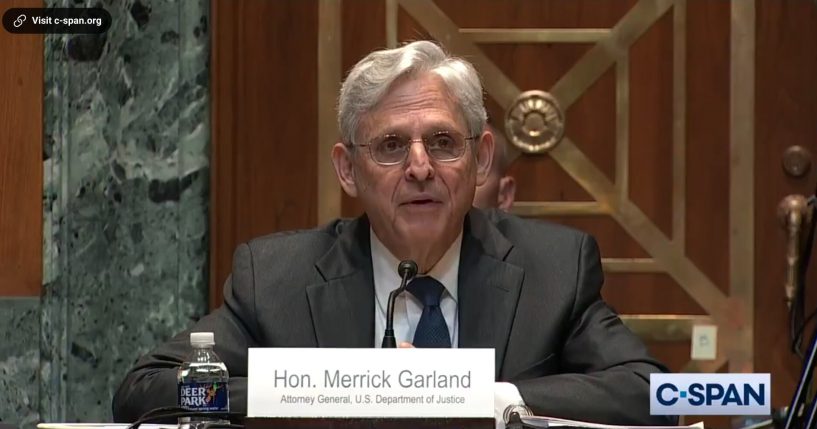 Attorney General Merrick Garland is being pressed on the Department of Justice's (DOJ) decision to defend former President Donald Trump in a defamation lawsuit filed by a writer who accused him of raping her.
During a Senate hearing on Wednesday, Sen. Patrick Leahy (D-Vt.) said the DOJ has "endorsed some highly controversial president's Justice Department," and noted that criticism of the decision.
He asked, "How is this coming about? Are these criticisms valid? Or what do you say about them?"
Advertisement - story continues below
"The job of the Justice Department in making decisions of law is not to back any administration, previous or present. Our job is to represent the American people. Our job, in doing so, is to ensure adherence to the rule of law," Garland responded.
He continued to say that there should not be "one rule for Democrats and another for Republicans, that there not be one rule for friends and another for foes."
"It is not always easy to apply that rule. Sometimes it means that we have to make a decision about the law that we would never have made, and that we strongly disagree with, as a matter of policy. But in every case, the job of the Justice Department is to make the best judgment it can as to what the law requires," he added.
However, he noted that "matters of policy" are "completely different" and that the current DOJ has "reversed policies of the previous administration many times over the last three months."
Advertisement - story continues below
Watch the video below:
.@SenatorLeahy asks about @TheJusticeDept decision to defend the previous administration's Justice Department actions.

Attorney General Garland: "Our job is to represent the American people…to ensure adherence to the rule of law…it is not always easy…" pic.twitter.com/2GQsruja6Z

— CSPAN (@cspan) June 9, 2021
Garland's comments come after the DOJ revealed it would defend Trump against a defamation lawsuit filed by writer, E. Jean Carroll over his denial of her rape accusations.
As NPR reports, Carroll "leveled the accusations against Trump in her memoir published in 2019. Trump denied the allegations and accused Carroll of lying to sell books."
Former Attorney General William Barr sought to intervene in the case to defend Trump.
Advertisement - story continues below
In a filing on Monday, Brian Boynton, the acting head of the department's Civil Division, wrote, "Then-President Trump's response to Ms. Carroll's serious allegations of sexual assault included statements that questioned her credibility in terms that were crude and disrespectful."
He continued, "But this case does not concern whether Mr. Trump's response was appropriate. Nor does it turn on the truthfulness of Ms. Carroll's allegations."
As The New York Times reports, the DOJ "essentially adopted Mr. Trump's position, arguing that he could not be sued for defamation because he had made the supposedly offending statements as part of his official duties as president."
The Times noted that, "Federal law forbids government employees from being sued for defamation, meaning that if the move was successful, Ms. Carroll's claim would be dismissed."
Truth and Accuracy
We are committed to truth and accuracy in all of our journalism. Read our editorial standards.
Comment Down Below
Conversation