Trump's Campaign Spox Pressed on POTUS' Refusal To Condemn Proud Boys During Debate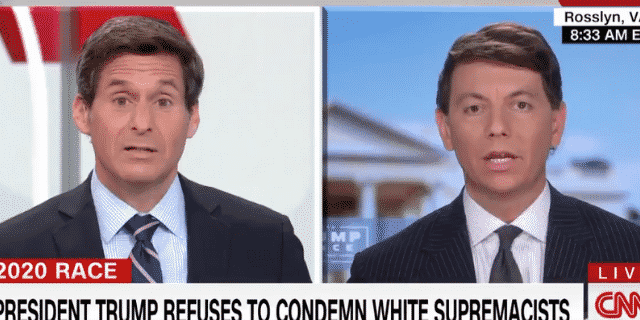 Trump's campaign press secretary Hogan Gidley is being pressed by CNN's John Berman over President Donald Trump avoiding condemning white supremacy and militia groups during the first presidential debate.
Berman asked Gidley, the former White House deputy press secretary, on Wednesday what the president meant when he told the Proud Boys, a far-right group, to "stand by." Gidley responded that Trump wants them to "get out of the way."
"He wants [Proud Boys] to get out of the way. He wants them to not do the things they say they want to do. This is a reprehensible group," Gidley said.
After the press secretary's remarks, Berman said Gidley went "ten thousand times further" than Trump did during the debate. Berman noted that Trump did not call the Proud Boys "reprehensible," before noting that the Proud Boys tweeted, "YES SIR, PROUD BOYS STANDING BY."
When asked directly if he condemns the Proud Boys, Gidley responded that he "absolutely" does. As Gidley continued, Berman interjected to note again that Trump did not "call [the Proud Boys] out last night."
Gidley then said, "John, when he was asked would he disavow them, would he condemn them, he said 'sure' three times in the one clip you just played. I don't know how many other ways you want him to condemn these types of groups."
Watch the video below:
"He wants [Proud Boys] to get out of the way. He wants them to not do the things they say they want to do. This is a reprehensible group," says the Trump campaign press secretary Hogan Gidley on what Trump meant during the debate when he asked the far-right group to "stand by." pic.twitter.com/J3sHZ0LRJb

— New Day (@NewDay) September 30, 2020
As The New York Times reports, Proud Boys have "openly endorsed violence" and "recently been tied to several violent incidents at recent protests."
When Trump was asked to condemn white supremacy and far-right groups during the debate in Ohio on Tuesday night, the president responded, "Sure. I would say almost everything I see is from the left-wing. Not from the right-wing. I'm willing to do anything, I want to see peace."
In case you missed it:
Wallace: "Are you willing tonight, to condemn white supremacists and militia groups and to say that they need to stand down…"

Trump: "Sure."

Trump: "Proud Boys, stand back and stand by. But I'll tell you what, somebody's got to do something about antifa and the left." pic.twitter.com/Co0Dp621FS

— Breaking911 (@Breaking911) September 30, 2020
After being pressed by Fox News' Chris Wallace, who moderated the debate, and Democratic presidential nominee Joe Biden, Trump said, "Proud Boys, stand back and stand by. But I'll tell you what, somebody's got to do something about Antifa and the left."