News
Whoopi Goldberg Claims Rittenhouse Trial Signals 'It's OK to Shoot White People'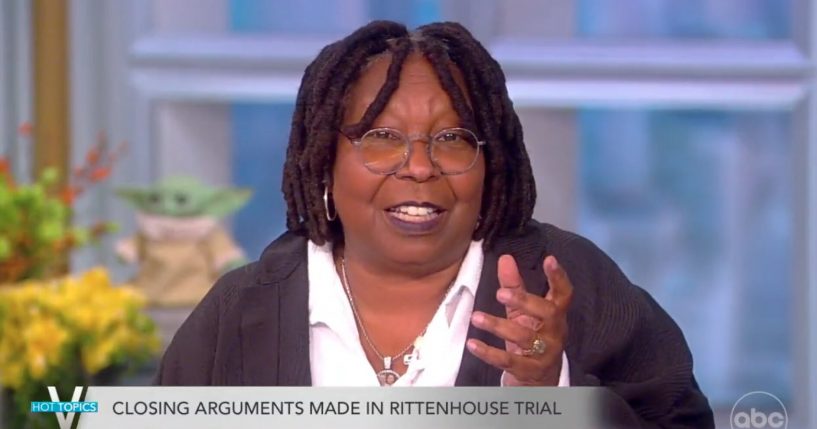 Whoopi Goldberg, co-host of ABC's "The View," says Kyle Rittenhouse's murder trial should be a "red light" for white people looking to attend social justice protests because of the message it sends.
On Tuesday, the show featured portions of the closing arguments in the trial. Prosecutor Thomas Binger argued, "One of the things to keep in mind is that when the defendant provokes the incident, he loses the right to self-defense. You cannot claim self-defense against a danger you create."
"What you don't do is you don't bring a gun to a fistfight … What the defendant wants you to believe is, because he's the one who brought the gun, he gets to kill," he added.
Advertisement - story continues below
Meanwhile, Rittenhouse's defense attorney Mark Richards argued, "Kyle shot Joseph Rosenbaum to stop the threat to his person, and I'm glad he shot him because if Joseph Rosenbaum had got that gun, I don't for a minute believe he wouldn't have used it against somebody else."
Goldberg said, "So the jury is deliberating as we speak. So I mean, how do you see this ending?"
"I think it's really a red light for white folks coming to help at social justice protests. Because basically what they're saying is, 'Oh, it's ok to shoot white people too,'" she added.
Watch the video below:
Advertisement - story continues below
CLOSING ARGUMENTS MADE IN RITTENHOUSE TRIAL: The co-hosts react to the closing arguments in the Kyle Rittenhouse trial as a jury begins deliberating the fate of the teenager after hearing starkly different theories of the night he shot three men in 2020. https://t.co/zIN8GGzyC4 pic.twitter.com/HKCC13JO3X

— The View (@TheView) November 16, 2021
Co-host Joy Behar chimed in, "Well, they've been saying that with all the school shootings for years now. So that's nothing new. I mean, this is a little bit of a different situation."
As NPR notes, "Rittenhouse was 17 years old when he traveled to Kenosha and armed himself with an AR-15-style rifle. It was a night of unrest in the city, sparked by the police shooting of Jacob Blake, a 29-year-old Black man who was left paralyzed after an encounter with a white officer."
"In a series of chaotic encounters with protesters that night, Rittenhouse shot and killed Joseph Rosenbaum, 36, then minutes later shot and killed Anthony Huber, 26, and injured Gaige Grosskreutz, then 26. Rosenbaum was unarmed. Huber was striking Rittenhouse with a skateboard. Grosskreutz was armed with a pistol," it added.
Rittenhouse has denied that he did "anything wrong" and testified that he acted in self-defense. Additionally, Rittenhouse said he went to Kenosha to protect private property. Prosecutors argue he went to Kenosha hoping to cause trouble.
Truth and Accuracy
We are committed to truth and accuracy in all of our journalism. Read our editorial standards.
Comment Down Below
Conversation